Wondering where to get a Santa photo on Sydney's North Shore this Christmas? Things are still a little different in 2021, but you can still get a photo with Santa… just a physically distanced one! No more screaming kids and no more bribing them onto Santa's lap… Santa is still popping up all over Sydney's North Shore. Discover the best places to get your Santa photos in 2021.
---
Santa is popping up all over Sydney's North Shore – from our trusty shopping centres right through to the beach and the bush. Be sure to book your session online to secure your spot and avoid the queues! Merry Christmas…
Check out our quicklinks to find where to get a Santa photo on Sydney's North Shore.
Shopping Centres
Something a bit different!
---
Chatswood
Westfield Chatswood
Westfield Chatswood have everything you need to create incredible Christmas memories! Things are a little different this year (as expected) and physical distancing will be practiced throughout the visit. Families will have their own seat next to Santa's thrones. In line with government health requirements, everyone must wear a fitted face mask unless they are exempt (e.g: under 12 years of age). This mandate does require that you keep your mask on whilst having your photo with Santa. Kids are encouraged to bring their favourite toy to join the photo, and everyone will receive a reindeer headband to take home. They will again be offering Sensory Santa (for kids with special sensory needs) and Pet Photography. Book here.
When: Saturday 13 November – Christmas Eve
Where: Westfield Chatswood, 1 Anderson Stree

t Chatswood
St Ives
Santa photos at The Village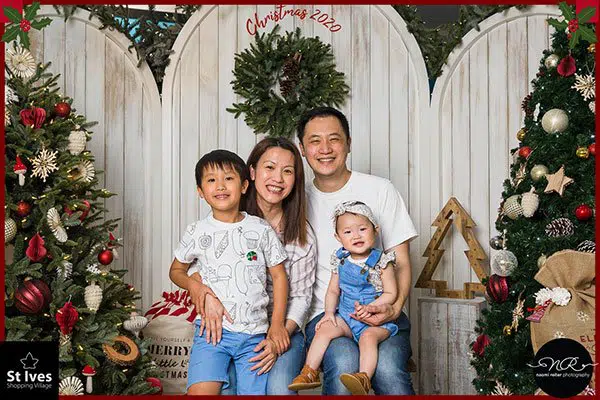 *Bookings open Friday 5 November
Visit the new look Santa Set on Level 1, near Nextra Newsagency. Santa Photos will start on Monday 29 November – Friday 24 December. Bookings essential and parents will be required to follow social distancing guidelines whilst queuing. COVID Safe Santa photos will ensure that Santa is a minimum of 1.5 metres from the children (all staff working on set have received their double vaccinations). Pet Photos will also be conducted on Thursday 2, 9 and 16 December from 3.30 – 7.30pm and Monday 20 December from 3.00 – 6.00pm.
Complimentary Family Portraits (without Santa) will be available on: Saturday 20 November:  10am – 1pm | Thursday 25 November: 2pm – 5pm | Friday 26 November: 10am – 2pm | Saturday 27 November: 9.30am – 1.30pm. Bookings open Friday 5 November. One complimentary photo will be emailed, additional photos will be available for a nominal fee. Five minute time slots will be allocated within the hour window.
When:

Saturday 20 November – Thursday 24 December.

Where:

St Ives Shopping Village, Level 1 (near Nextra)
Hornsby
Westfield

Hornsby
What will you ask Santa for this year? Create a memory that captures the magic of Christmas and book your photo with Santa at Westfield Hornsby. Physical distancing will be practised and families will have their own seat next to Santa. Children that meet Santa and have a photo taken with him will receive a wearable gift, either a cute reindeer or elf headband. There will also be options for Sensitive Santa photos and pet photos with the whole family. Click here – bookings are essential.
When: Saturday 13 November 2021 – Christmas Eve
Where: Westfield Hornsby, Centre Court, Level 3 (near Food Court), Pacific Highway, Hornsby
North Ryde
Macquarie Centre
The incredibly unique and award-winning Santa's Secret Garden is back this year and takes Christmas lovers, young and young-at-heart, on a journey of quintessential Australian Christmas landscapes from 20 November – 24 December. This one-of-a-kind living, breathing Christmas set, created from native and drought-tolerant plants transports guests from the beach to the bush, encompassing lush greenery with tropical plants and coastal pathways. Shoppers will pass through iconic Australian scenery including a boardwalk and glow worm cave to finally arrive to meet Santa.
Centre stage at Santa's Secret Garden will be Santa Photography, Sensitive Santa and Pet Photos. Visitors also have the opportunity to register for a free personalised video from Santa!
This year, additional safety measures have been introduced including maintaining a 1.5m distance from Santa, pre-bookings and contactless payments, sanitiser units available upon entry and exit, increased cleaning rotations will be implemented and limited hourly time slots will be available to ensure families have a safe and fun experience.
When: Saturday 20 November – Christmas Eve
Location: Centre Court (outside Target), Level 1, Macquarie Centre, Cnr Herring & Waterloo Roads, North Ryde
Tickets: Book now.
Top Ryde
Top Ryde City
The Santa you know and love lands at Top Ryde City from Saturday 13 November. Sensitive Santa photos will be offered this year. Families with children with special needs are invited to a sensory-friendly visit with Top Ryde City's famous Santa. This inclusive program invites families to meet Santa one-on-one with low background noise, sensory considerations and without the queues.
Physical distancing measures are in place, with a throne set up next to Santa for photos. Masks can be removed once you are sitting, just for the photo. The stools will be cleaned and sanitised between each sitting.
When: Saturday 13 November – Christmas Eve
Location: Top Ryde City, Ground Floor, Cnr Devlin St & Blaxland Road, Ryde
Tickets: Packages start from $25. Book now
Sydney CBD
High Tea with Santa, Queen Victoria Building
Once again in 2021, the QVB are replacing their traditional Santa photos with something a lot more special… High Tea with Santa! Santa and a team of helpers will be ready to welcome you, where you're invited to capture your own photos, as well as have a professional photographer capture a family photo with Santa at his throne.
Ticket includes Standard High Tea (sweet and savoury treats, finger sandwiches, choice of tea, coffee or soft drinks), entry The Tea Room QVB for a maximum session time of 1 hour, professional general event photography.
Here's what North Shore Mum, Ava Louise had to say about her experience in November 2020…
"I know Santa photos are a big topic right now and I wanted to let everyone know about my experience at the QVB. I know a lot of people are disappointed about the normal Santa photos not being available but I think the Covid-safe option is really lovely. We had a fantastic time this morning. It will not be the best option for everyone, but if you want an experience, this is it. The website doesn't do a good job of explaining the process so I'll elaborate for everyone here…
There are proper Santa photos. The website makes it seem like Santa is only roaming around and you take your own photos. This is not the case. There is a nice set up with the throne. There is also a bonus swing set up to take photos. That being said, you do get to take photos on your phone which you couldn't do if it was the normal QVB set up.
You don't just hope for the best. The attendants usher tables up when it's their turn with Santa. The attendants are wonderful.
The food is fabulous, as to be expected with the tea rooms' high tea.
If you can, do the 7.30am session, very few people are taking advantage of this session. It was basically empty for us and we got a lot of time with Santa.
The professional photos are available online that day at no extra cost. This is not the case for the normal set up, so it's definitely a bonus."
Where: Tea Room QVB, Level 3, 455 George Street, Sydney (Town Hall is the closest train station)
Session Times: 1 hour morning sessions available
Tickets: Bookings open soon.
PetO
Santa Paws is coming to all PetO stores on Saturday 4 December and Sunday 5 December. Due to Covid, Santa won't be making an appearance this year, but their nutcracker cat and dog will be there and so excited to be welcoming you!
In proud partnership with Hill's Pet and Animal Welfare League NSW.
Where: Chatswood, Lane Cove, Hornsby, Mona Vale and Brookvale. Find your nearest PetO store.
When: Saturday 4 December and Sunday 5 December
Cost: Prints are $9.99 with all proceeds going to Animal Welfare League.
Tickets: Bookings open soon.
---
Santa photos with a twist!
Santa in the Garden, St Ives
Santa is coming back to the Wildflower Garden in St Ives in 2021, for a unique outdoor photo opportunity. Come and experience the first year of Santa in the Garden where you will be able to meet Santa whilst being surrounded by the beauty of the natural bushland. The set is flexible and the choice is yours!
Where: Ku-ring-gai Wildflower Garden, 420 Mona Vale Road, St Ives
When: Saturday & Sundays from 13 November until 12 December, 8am-12pm
Cost: $80. Package includes 5-minute session and 3 high res digital images. Book here.
Santa at Luna Park
We'll let you know what Luna Park is doing for Santa photos in 2021 as soon as it's announced!
Santa on Sydney Harbour Bridge, Bridgeclimb
Santa is visiting BridgeClimb for one-of-a-kind Christmas Snaps at the Summit of the Sydney Harbour Bridge every Sunday from 7 November – 19 December 2021.
This festive season, climbers booked on departing Climbs within the period can get a COVID-Safe photo with Santa and their family and friends. Santa will be positioned at the Summit with the Opera House sails in the background whilst 1.5m away from climbers.
Christmas cheer add-ons include a Santa hat to take home and the chance to sing-a-long to your favourite Christmas carols whilst you soak in the sights of Sydney Harbour.
Where: BridgeClimb, The Rocks
When:

9am-11am every Sunday from 7 November to 19 December on all Climb routes – Summit, Summit Express and Ultimate.

Cost: $139 per Child |

$248 per Adult.

 Book now.
Snow Globe, Roseville
Travel anywhere you like this Christmas in Naomi Reiter Photography's special Snow Dome! No border restrictions, no shopping centre madness and no queues. Just your beautiful family, even bring your pets if you wish! Choose from four wonderful destinations:
Relax on a beach holiday with a few special native Aussies
Take a stellar adventure to a far flung galaxy…but don't crash into the moon!
Lose yourselves in the magic and be enchanted under the Christmas lights
Cozy up on the mantelpiece with a roaring fire…beware of the Naughty Elf!!
Magical Christmas Mini shoots are $150 and include a family portrait Snow Dome photography session in your choice of four Snow Dome backgrounds with one high-resolution file of your portrait. Also included is an additional fun family mini shoot (white background) with three 5×7" photos (digital only).
Where: Naomi Reiter Photography Studio, 72 Pacific Highway, Roseville
When: Sunday 21 November
Cost: $150. Book now.
Xmas Sessions with the Best Real Santa in town
Lia Marx is one of the only photographers we've spotted doing photos with Santa – hey, you can even sit on his lap if you really want to! This particular Santa is a winner… he even has a real, white beard! Large families & pets are welcomed, and you can choose from five Christmas-themed sets.
All their team is fully vaccinated – and will also run a rapid antigen COVID swab testing (15 minutes) – SwabMe prior to starting the day to guarantee 100% safety and Covid-free.
Where: Lia Marx

Killarney Heights Studio

When: Various dates in November & December
Cost: $119 for 10-minute sessions, 2 prints and 2 digital photos. Other packages available. Book now.
Santa on the Beach
Get a photo with Santa on the beach in 2021! Come and have some fun, relaxed Christmas photos with all your family and friends – including 4-legged ones. Dog-friendly Christmas photos are available at Bayview, and for the first time ever, two Central Coast locations: North Avoca & North Shell. Narrabeen Beach is for humans only. This year you can choose to have a photo with Santa or without, with plenty of fun styling options to choose from.
When & Where:

Narrabeen Beach – Sat 13, Sun 14 & Sun 21 Nov, Sat 4 Dec
Bayview – Sat 20 Nov & Sun 5 Dec
North Avoca – Sat 27 Nov
North Shelly – Sun 28 Nov

Cost: $79 per session. Book now.
Aussie Santa Photos, Long Reef Beach
Have your kids photos with Santa with an Aussie feel. This lovely Santa will be set up at Long Reef Beach on Sydney's Northern Beaches for your family to come down and capture the essence of Christmas in Sydney. Bookings are 5 mins per family (made in advance) and you'll receive 3 high resolution images to post, email, print as you wish. You could even use the photos for your family Christmas cards.
You will have the option of having Santa stand behind the bench, or near the surfboard at a safe distance, or if you wish to have photos with Santa on the bench he will wear a face mask.  The bench will be cleaned between each session, and Santa will use hand sanitiser between each group. Book your session now.
Company: J Roberts Photography
When: Sun 14, Sun 21 & Sun 28 Nov, Sun 5, Fri 10, Sun 12, Weds 15, Fri 17, Su 19 & Tues 21 Dec
Where: Long Reef Beach
Cost: $80. Package includes 5 mins session and 3 high res digital images. Book now.
A message from our Christmas sponsor, FoodSt
Keep the festivities going when you get home with a Home cooked Christmassy dinner delivered to your door. The cooks at FoodSt have created a festive Entertaining Menu so you can spend less time in the kitchen and more time enjoying the moment with a feast of treats that includes arancini, mini quiches, smoked trout, marinated prawns and cheesecake, to name a few… Check out the Christmas menu here.
---
Want more inspiration for Christmas in Sydney 2021?