Eating out with the whole family can get expensive. But if you know the right restaurants to go, at the right time, then you can save yourself a lot of money! We've scoured the North Shore to find all the local North Shore restaurants where kids eat free. Enjoy!
---
Load the family in the car and try one of these fabulous local restaurants where kids eat free! Enjoy a delicious meal out with the whole family, for a fraction of the cost. Tuck in!
Restaurants where kids eat free on the Lower North Shore
1. The Buena, Mosman
With its delicious menu, great service and relaxed yet sophisticated vibe you'll quickly discover why The Buena is a both a favourite amongst locals and a destination in its own right. Kids eat free in the Vista Bar every Monday from 5pm.
Kids Eat Free: Every Monday (after 5pm)
Address: 76 Middle Head Rd, Mosman
Website: thebuena.com.au
2. Garfish, Crows Nest
Love seafood? Like to eat early? Kids eat free at Garfish Crows Nest every night of the week, between 5-5:30pm. So treat yourself to a night off the cooking and dishes and join us for an early dinner:
Kids Eat Free: Tuesday-Saturday (5-5:30pm)
Address: 6/29 Holtermann Street (off Alexander Street), Crows Nest
Website: garfish.com.au
3. Attimo, Northbridge
Attimo is a family Italian restaurant on the North Shore which offers a fine selection of Italian favourites like pizza and pasta, as well as dishes like Garlic Prawns and New Zealand Mussels. Yum! Pop along with your family on Wednesdays, when kids eat free – you can dine it, takeaway or get delivery.
Kids Eat Free: Every Wednesday
Condition:

2 kids meals for free when you spend over $30 and 3 for free over $40

Address: 119 Sailors Bay Road, Northbridge
Website: attimo.com.au
4. The Great Northern Hotel, Chatswood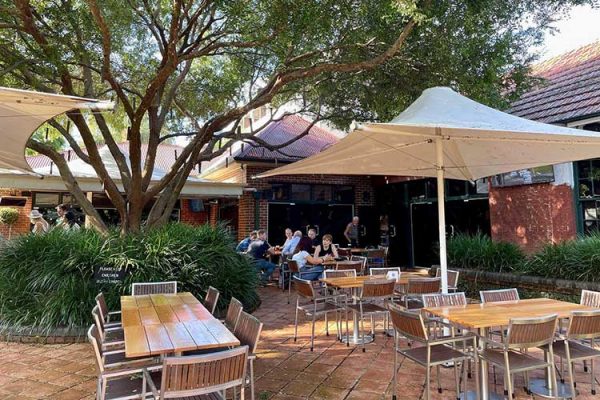 The Great Northern Hotel is the perfect place to enjoy a delicious cook-your-own steak, or something from their extensive a-la-carte menu featuring weekly blackboard specials and kids' meals. Kids eat free Sundays lunch or dinner.
5. Teta's Authentic Lebanese
Teta's (grandma's) is a family run authentic Lebanese restaurant in Roseville Chase, on Sydney's lower north shore. Using recipes that have been passed down from one generation to the next, they serve one of the world's oldest and greatest cuisines. They use locally sourced seasonal produce and imported ingredients from Lebanon, and aim to create authentic Lebanese cuisine for Sydney-siders to enjoy. Kids eat free from the kids menu on Sunday nights from 5-6pm.
Kids eat free: Every Sunday, 5-6pm
Address: 25 Babbage Road, Roseville Chase
Website: tetas.net.au
6. Impasto Italian
Love Italian? Impasto means "dough: and it's at the heart of the restaurant. It is the beginning of a crunchy but soft Focaccia, woodfired authentic Italian pizza and pasta to die for. Let them cook for you on Sunday nights, when kids eat free!
Kids eat free: Every Sunday, 5-6pm
Address: 15 Babbage Road, Roseville Chase
Website: impasto.sydney
Restaurants where kids eat free on the Upper North Shore
7. The Greengate, Killara
Kids Eat FREE every day at Greengate Hotel in the Front Bar and Terrace. Simply order any main meal and receive a free meal from their kid's menu. Choose from Spaghetti Bolognaise, Chicken Nuggets & Chips, Fish & Chips, Chicken Schnitzel & Chips, Ham & Cheese Pizza. They even offer Stir Fried Chicken & Vegetables, Steamed Rice for kids too!
Kids Eat Free: Every day, 12-6pm
Address:Cnr Pacific Hwy &, Greengate Rd, Killara
Website: greengatehotel.com.au
8. Turramurra Bowling Club (aka Club Turramurra)
North Turramurra locals love their local… the Turramurra Bowling Club. Maila's Kitchen offers traditional favourites, exciting new dishes and weekly specials. Head there on a Saturday night, when kids eat free! On the Kids Menu, you'll find spaghetti meatballs, cheese burger & chips, chicken nuggets & chips, fish & chips, chicken schnitzel and chips.
Kids Eat Free: Saturday, 5.30-8.30pm (12 and under, from kids menu)
Address: 181 Bobbin Head Road, North Turramurra
Website: clubturramurra.com.au
9. Blue Gum Hotel, Waitara
The bistro is old world charm offering a range of modern Australian cuisine from traditional pub classics, succulent steaks and fresh seafood. Every Friday, kids eat free from 5pm-6pm. Choose from cheeseburgers, battered fish, chicken nuggets, sirloin steak and ham and cheese pizza.
Kids Eat Free: Every Friday 5pm-6pm
Address: 55 Pacific Highway (cnr Unwin Rd), Waitara
Website: bluegumhotel.com.au
10. Bambino's Too, Berowra Heights
Enjoy a selection of pizzas, calzones, pasta & ribs Bambino's Too in Berowra Heights. Dine inside or out! They have a fully stocked bar, but also allow BYO wine. On a Monday and Tuesday, families can get a free kids pizza with every paying adult – cheese, bacon, ham, tropicana, meat monster or ham & mushroom!
Kids Eat Free: Every Monday (4-9pm) & Tuesday (12-9pm)
Address: 1 Turner Road, Berowra Heights
Website: bambinostoo.com.au
Restaurants where kids eat free on the Northern Beaches
11. Cascade Dining @ Club Belrose
If you're after great food and entertainment for the kids, this is the place to be! Any kids under the age of 10 eats free on Sunday with a main meal purchase. They also have a movie room and outdoor playground (seperate to the restaurant).
Kids Eat Free: All day Sunday
Address: 146 Forest Way, Belrose NSW 2085
Website: clubbelrose.com.au
12. Barbuto, Narrabeen
Kids eat free at Barbuto with each adult main meal purchased. Available Wednesday, Thursday and Friday between 5pm and 6:30pm. They're known good quality Steaks and Ribs (some people travel for miles to have a Barbuto steak), and also have numerous other scrumptious Modern Australian options to please the whole family.
Kids Eat Free: Wednesday – Friday, 5pm to 6.30pm
Address: Shop 5/16 Ocean Street, Narrabeen
Website: barbutorestaurant.com.au
13. Daniel San, Manly
Daniel San's Japanese food is fresh, clean, unique, fun and above all, totally delicious. Better still you can enjoy your meal or drink with an incredible beachside view. Bring in the little ones for a meal on them, every Monday to Friday from 4pm-6.30pm.
Kids Eat Free: Monday – Friday, 4pm to 6.30pm
Address: 55 North Steyne, Manly
Website: danielsan.com.au
14. ChaChu's
ChaChu's in Brookvale serves delicious Indian street food & curries, including their signature Kathi Rolls. If you want to help your kids explore other flavours (beyond trusty chicken nuggets!), they have an excellent Kids Menu of milder Indian dishes… that get the big tick of approval. Like butter chicken (with hidden veg!), crispy chicken kathi roll or cispy paneer kathi roll. Take a look.
Kids eat free: Every Thursday with every paying adult.
Address: 40 Winbourne Rd, Brookvale 2100
Website: chachussydney.com
15. Brookvale Hotel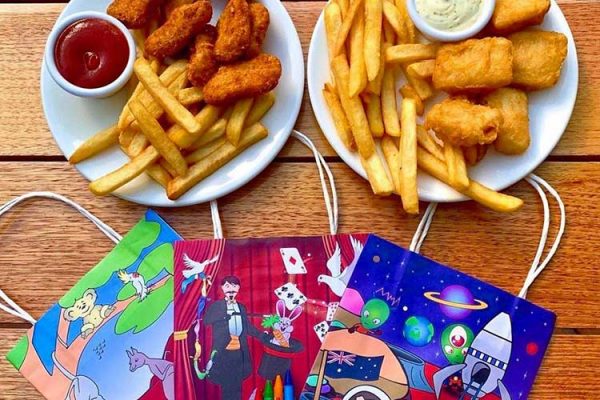 The Brookvale Hotel features a 150 seat restaurant and sensational indoor/outdoor area, the brasserie is a smooth blend of vintage pub design and cutting edge technology. Kids eat free every Sunday, where they can choose from ham & pineapple pizza, chicken nuggets & chips, fish & chips, and enjoy a kids colouring pack to keep them busy!
Kids Eat Free: Sunday, lunch & dinner
Address: 511 – 513 Pittwater Road, Brookvale
Website: brookvalehotel.com.au
16. Fratelli Fresh (Manly & more)
Fratelli Fresh is your stress-free choice where children under 12 eat free at every one of their venues all day, every day. There is a great selection of yummy meals including pasta (including everyone's favourite, spaghetti!), ham and cheese pizzas, even chicken nuggets! 
Kids Eat Free: All day, every day
Locations: Manly, Darling Harbour, Entertainment Quarter, Westfield Sydney & more
Website: fratellifresh.com.au
Restaurants where kids eat free in the Sydney CBD
17. Sydney Tower Buffet
Create your own culinary tour of the world, feasting on more than 30 international dishes, including seafood and desserts, while you take a 360-degree revolving tour of Sydney 82 floors below. Kids eat free Monday to Thursday for lunch and dinner, and also on their birthday! Kids eat free with one paying adult.
Kids Eat Free: Monday-Thursday, lunch & dinner (

valid for kids 3-12 years old)

Address: Located between Pitt & Castlereagh Streets, entry via Level 4 Westfield Sydney, 108 Market Street NSW 2000
Website: skyfeastsydneytower.com.au
18. Rashays
Whether it's a fun night out with the family or friends, special occasion or you just want a treat, the huge menu selection and friendly staff at Rashays have you covered. Plus, kids eat free all day on Sundays!
Kids Eat Free: Sunday, all day
Address:

Level 2, Shop 430B, 2-10 Darling Drive,

Sydney NSW 2000
Website: rashays.com
Please note: Most Free Kids Meals are only available with an Adult Meal, and for children aged 12-15 and under. Please check with each restaurant for terms & conditions. The below offers are correct at the time of publishing.
---
Want more family-friendly dining on the North Shore?