With Mother's Day just around the corner (Sunday 13 May), we want to give a little guidance and inspiration to our other halves… so that we actually get a present that we really, really love this year. So many partners have the best intentions, but sometimes (bless them!) they just don't get it right. As well as the gorgeous hand-made cards and thoughtful gifts from the school Mother's Day stall, a more significant present to show how much mum is appreciated is also warmly welcomed! So ladies, be sure to share this Gift Guide with the person 'in charge' of Mother's Day this year… 
To ensure our Mother's Day Gift Guide only includes gifts that North Shore Mums really want, we asked the members of our Facebook group what they'd love to receive to help us narrow it down to specific categories. The result? Loud and clear, the types of gifts our mums would love fall under the following categories:
So let us help transform those wishes into amazing presents, with the NSM Mother's Day Gift Guide – all of the local businesses featured have a special offer just for Mother's Day, ensuring you can get something super special this year!
---
Pamper Me!
The most popular gift request from North Shore Mums was to indulge in some serious pampering… so treat mum to a relaxing massage, facial or beauty treatment to make her look and feel ah-maze-ing!
'Anything pamper related like a spa voucher' – Rebecca
'Massage voucher and big breakfast without any disturbance' – Inab
'High tea voucher, spa, facials, manicure, massage and tea.' – Michelle
'A night of uninterrupted sleep would be great. The next best 

gift

 is a spa voucher' – Swati
'But only if it comes with a voucher for daddy or alternative to mind the kids so that you can actually use the voucher. I've still got one waiting to be used since Christmas' – Chanel
Want to treat mum to some serious pampering? She'll be so pleased! These local spas, salons and therapists have created some special offers for North Shore Mums.
The Organic Facialist
Offer: The Mother's Day Package includes a relaxing facial, a neck and shoulder massage, ear reflexology, eyelash tint and eyebrow shape, for special price of $99. 
If you think a massage is more relaxing than a facial, you've never had a proper facial! The Organic Facialist offers nurturing organic facials and beauty treatments. A chance for all women to step away from the constant noise and distraction of our busy lives and experience a real sense of relaxation. With a holistic approach to healthy skin, incorporating wellness, lifestyle, stress and emotional issues to find the root cause and The Organic Facialist will work with you to achieve a healthy glow.
T&Cs: Offer ends Sunday 13 May 2018.
endota spa Hornsby
Offer: Buy mum a Gift Card for $100 or more, and get a FREE 20ml Hand or Foot cream valued at $15! 
An endota spa Gift Card is the ultimate gift for Mother's Day! Everyone relishes the chance to leave life's pressures behind and escape to a place of peace and tranquility, and endota spa can take mum there. A Gift Card gives her the freedom to tailor her own experience or select from a range of signature in-spa massage, facial or body treatments.
T&Cs: Valid at endota spa Hornsby only before Saturday 12 May 2018. Mention 'North Shore Mums' at the time of purchasing the gift card to receive your free gift. Not valid in conjunction with any other offer.
Glow Medispa
Offer: 20% off Skin Treatments and Facials
Glow Medispa in Cammeray provides a medical approach to beauty with serious skin treatments delivering incredible results. Combining high tech equipment including – Clear and Brilliant Fraxel laser, Omnilux light therapy, skin needling and skin peels to reduce lines and wrinkles, lighten pigmentation and improve tone, texture, and radiance. Microdermabrasion works to resurface and exfoliate sun damage, scarring and give back that youthful Glow to your skin.
Glow Medipsa also offers a range of relaxation treatments, waxing, spray tanning and remedial massage.
T&Cs: Gift vouchers have a 3 month expiry.
Balanced Bodies Lifestyle Clinic
Offer: $150 for a Massage & Healthy Mum Bundle (includes a relaxing massage and a session with the Exercise Physiologist). Usually valued at $240, save $90.
The Balanced Bodies Lifestyle Clinic's vision to inspire individuals to achieve their daily dose of movement. They are a Lifestyle Clinic with a team of health professionals including Exercise Physiologists, Massage Therapist, physios, Dietitian, counselor and yoga teacher.
Australian Skin Clinics, Warringah Mall
Offer: Buy a Gift Voucher valued at $150 or more, and get the same in additional value FREE! So a $150 spend becomes a $300 Gift Card.
Give mum the gift of beauty this Mother's Day – with a voucher that can be spent on any of the cosmetic treatments at Australian Skin Clinics at Warringah Mall. So whether that's laser hair removal, cosmetic injectables, fat reduction or just great skincare (like their highly awarded high performance microdermabrasion), they've got you covered.
All of their services are provided in a professional, ethical and service oriented environment and they take great pride in extensive and ongoing training to all staff.
St Ives Professional Skincare at St Ives Shopping Village
Offer: Ultraceuticals Ultra Radiance Boost pack in a Mother's Day Box for $174 (RRP $217)
What woman doesn't want glowing, beautiful skin? Ultraceuticals is Australian-made and cruelty free, and they're committed to providing products that work to address major skin concerns – ageing, acne and hyperpigmentation. St Ives Professional Skincare at St Ives Shopping Village have special offer on Ultraceuticals Ultra Radiance Boost pack – which contains Ultra Hydrating Milk Cleanser (200ml), Ultra Dual Microfoliant (75ml) and Ultra Moisturiser Cream (75ml) all packaged in a Mother's Day box for $174, valued at $217.
Location: St Ives Shopping Village (Level 1)
To purchase: Call 9449 4711 or buy in store
Envy Room Salon
Offer: Indulgence Hair Colour Package for $189 (worth $365!) – includes Makeover style cut & blow-dry, full colour or frame fashion highlights, deluxe treatment with hot towel, Mother's Day voucher, Mother's Day gift bag PLUS go in the draw to Win a Mother's Day Hamper worth $300
Envy Room does more than just cut or colour hair. They do it with passion, experience, perspective, trend knowledge and advice. They create architectural styles the reflect every individual's unique personality. They design innovative shapes that are modern, geometric and versatile. Our hair is a form of expression and style, and like a piece of art, our hair is a canvas. Their stylists are committed to creating the perfect style for all their clients.
Location: 14/767 Pacific Highway, Gordon
To book: Call 9499 9880
Website: envyroom.com.au
T&Cs: Only 23 Packages available at this price. Voucher valid until 30/06/2018
HYPOXI Cammeray
Offer: Free Hypoxi Trial! Plus get a special Mother's Day Gift if you book the package. 
Looking for a time efficient, easy and effective way to get into shape? HYPOXI is the solution! The HYPOXI-Method combines low impact exercise with advanced technology and healthy nutrition to help your body work smarter, not harder. Independent studies have shown HYPOXI to be up to three times more effective at targeted fat burning than regular exercise. HYPOXI Cammeray is also bub friendly!
---
Make Me Look Good!
Whilst pampering makes us feel amazing on the inside… we also relish the opportunity to update and improve the exterior too! So some new jewels, clothes, lingerie, PJs, shoes… or even a voucher to go shopping with a personal stylist would tick those boxes! If you're not sure about the size or style, a Gift Voucher is a great option.
Studio Petrina Milas, Northbridge
Offer: Beauty Essentials Class 2-for-1 special offer. Enjoy a special 2.5 hour class for two people for just $185 (normally $185 per person). 
This is the ultimate gift for some special mother daughter bonding! Petrina will show you how to achieve effortless beauty for easy everyday life, work – and special occasions. This lovely garden studio is the perfect place to bring your mum, daughter or girlfriend for a personalised makeup class, a seasonal update or a 'glam' session before a special event. A beauty destination located in the leafy backstreets of Northbridge, the Studio is designed to provide personal service and pampering while you receive expert beauty advice.
T&Cs: Appointments must be for two people at the same time. Offer ends 31 May 2018.
Temples and Markets
Offer: 10% off any order from the Mothers Day Gift Collection when you spend over $50. 
Temples and Markets is the North Shore's Go-To Online Store showcasing Unique and Ethical Gifts. Every product has a story and has been personally sourced by North Shore Mum Judith Treanor. Judith has curated a beautiful Mothers Day Gift Collection with something for Mums and Grandmums of all ages. Choose from Accessories, Bags, Jewellery or Decorative Gifts. Shop now!
T&Cs: Use code NSMUM at checkout. Ends 10 May 2018. Plus every order from the Mother's Day Collection goes in the draw to win this beautiful necklace from Zsiska Jewellery.
Miz Mooz Australia
Offer: 25% off  all new arrivals 
Looking for a new pair of boots for winter? Miz Mooz have a stunning range of exquisite leather shoes – which are designed in New York and made in Europe. Each shoe is carefully finished by hand, and the resulting variations in colour and texture ensure every pair is as unique and interesting as the woman who wears them.
Shop the fabulous range of boots and stylish footwear today! Use code NSMUMS25 for 25% off!
Josephine Eve – Personal Styling
Offer: Personal Shopping Package for $550 which includes a 1 hour Consultation via Skype, a 3 hour Personal Shopping Session, a Body shape styling tips PDF, a mini colour swatch suited to your palette plus a complimentary high tea for 2 people at Laduree Sydney CBD Westfield (valued up to $110).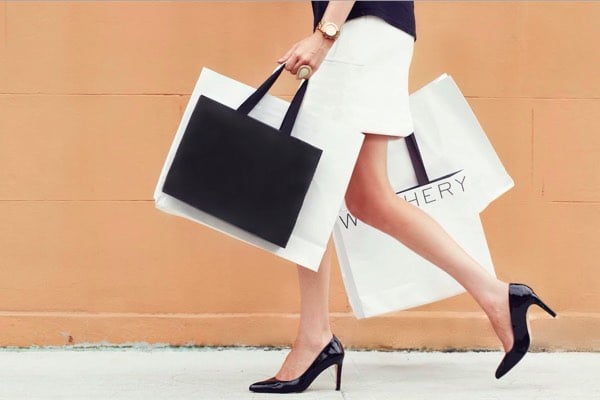 Josephine Eve is a highly experienced personal fashion stylist with expert skills in redefining the style of mums and women in business around Australia.
As a business woman, and someone who understands the struggles of motherhood and balancing life in general, Josephine understands how overwhelming and disheartening it can be to invest precious time and money into a wardrobe that still doesn't make you look and feel amazing! Take charge of your confidence through the power of image & style!
Josephine's mission is to inspire women to be the very best version of themselves.
Secret Womens Business
Offer: 15% off any purchase over $200. 
Make the mum in your life feel amazing with some new lingerie from Secret Women's Business – who stock an exclusive range of beautiful lingerie from all over the world. They have over 60 bra sizes, so you're guaranteed to find the perfect fit for every woman! Secret Women's Business also has a large range of sleepwear, exotic burlesque items as well as jewellery and accessories. Pop into their Crows Nest store to see the range!
T&Cs: Mention North Shore Mums in store. Valid until 13 May 2018.
Cantabulous Creations
Offer: 10% off all accessories ordered online.
Cantabulous Creations is a proud distributor of Escama Studio's upcycled, fashionable yet practical accessories (bags, clutches, belts, jewellery and guitar straps). Each accessory is hand-crafted by a BrazilianFair Trade artisan using recycled can-tabs joined by traditional crochet-work. Cantabulous Creations are works of true ingenuity, made with love and an abundance of creativity. What's more, each accessory bears a tag with the artisan's signature! Buy your mum an accessory that will turn heads this Mother's Day whilst supporting a Social Enterprise of mums in Brazil at the same time. Shop online now!
Special Event: View the Cantabulous Creations range at their Barefoot, Bags and Bubbles event at Lindfield Masonic Hall on Sunday April 29 from 1-5pm. Tickets are FREE (and include a glass of bubbles) but you must register.
---
Make it meaningful!
A personalised gift shows that you've given real thought (and planning) into the gift. Treat her to a beautifully engraved piece of jewellery (perhaps with the kids names on?), or get some updated family portraits from a professional photographer, or something completely unique like a custom illustration from a local NSM artist.
St Ives Jewellers
Spoil Mum this Mother's Day with a beautiful and personalised necklace from Charmour at St Ives Jewellers. Charmour Personalised Gold & Silver Jewellery combines beautiful Australian made jewellery with the latest in precision computer engraving. Many designs available.
The teardrop pendant (pictured) with diamonds is available in Sterling Silver $480, 9ct Yellow, Rose or White Gold $1,263 or 18ct Yellow Gold $2,322.
Available from: St Ives Shopping Village (Level 1)
Contact: Call 9449 8506
Uberkate
Offer: $100 off Uberkate's sterling silver signature small, medium and large Ubercircle set. PLUS get a free sterling silver pendant bracelet (with one monogrammed initial) when you spend over $300. 
Uberkate are the makers of beautiful heirloom jewellery and the home of the Original Ubercircle personalised necklaces. They're timeless, hand-crafted and absolutely beautiful.
The pictured Ubercircle is made of solid sterling silver and can be engraved with your loved one's names to make a stunning necklace. One 2cm diameter circle sits within a 2.5cm diameter circle within a 3.5cm diameter circle. Includes 45cm silver curb chain and a silver uberclip. Shop online now!
T&Cs: Offer valid until 12 May 2018 or whilst stocks last.
Bree Hulme Photography
Offer: Book a family portrait session and receive a $100 voucher towards prints and products. 
Too often, mums are missing from photos with their children. We want to lose 5 kilos. We don't have makeup on. Our hair isn't done. The dress is not flattering. Or we are the ones documenting every adorable moment from behind the camera and we are the ghost in our family portraits.
But your children do not see any of these things as excuses. They just love and adore you. They just want to see photos with their Mum in the frame. Bree Hulme Photography offers a relaxed and fun experience to create treasured family portraits to look back on when your children have grown.
T&Cs: Mention North Shore Mums when booking. Family portrait sessions must be scheduled to be held before 31 August, 2018.
Natasha Farrar Illustrations
Offer: 10% all gift certificates purchased before Mother's Day!
Break away from the usual family photographs and take it to another level by getting your own custom illustration! For Mother's Day, you could give a sketch or watercolour of your family, your children, or your mum and her grandchildren. Gift certificates are also available for those who want to give a gift but would prefer the recipient to decide what they want created (eg. children giving it to mum!) or as a last minute idea.
---
Help Me Out!
Looking for the ultimate gift for the time-poor mum? Any service-related gift is bound to get the tick of approval! So whether that's a voucher for some home-delivered meals, cleaning services, help to get the house in order with a professional organiser or a Nanny to look after the children for a few hours (or a day!), treat her to a break from the every day!
Decluttering Diva
Offer: Book a 3-hour in-home consultation for $300 and get a bonus 1 hour virtual session valued at $55. 
Is your home full of 'stuff'? Do you want to organise your playroom, office, kitchen, wardrobe or laundry? Let Kristina, aka the Decluttering Diva come to the rescue with her expert advice to help you to declutter and organise your home. She can implement simple systems to help your home run smoothly, share her knowledge to maximise your storage space and work with you to declutter the excess so you can have the #divaeffect in no time.
T&Cs: Offer valid for bookings made and paid for by 31 May, session times available till 28 September 2018.
Dinner Ladies
Offer: $25 off your first order. Enter code: NORTHSHOREMUMS
Give mum a week off cooking with delicious, home-cooked meals from the Dinner Ladies.  It's the ultimate gift for the time-poor mum who wants to serve delicious and nutritious meals, but is juggling a million other things.  The Dinner Ladies make real home-made food which is freshly prepared and comes either fresh or frozen – so there is always lots of variety.
Choose from dishes like Thai chicken curry with ginger and basil, Wimmera grain salad, Chermoula roast chicken on spiced pumpkin, Boeuf Bourguignon, Moroccan snapper tagine, kid's Sausage rolls with sneaky veg and so much more.
Give the gift of delicious home cooked meals with a Gift Voucher for mum! Discount code can be used on any food order. Order online today!
Give me a holiday!
It comes as no surprise that we all love a break from the everyday routine with a change of scene. So consider booking a mini break for Mother's Day – either within Sydney, or a little further afield!
Some mums crave family time – like Sarah, who would love 'A family night away at a local 5-star hotel with club lounge access. No food preparation and dishes! Pop to the spa and hotel brunch on the Sunday!'.
Whilst other mums want a complete escape from the family, like Vanessa who said 'A night in a gorgeous hotel for just me where I can have room service and watch movies in bed (of course with a wine or two) with no judgement or interruptions and then sleep all night without having to get up for the kids. Is this too selfish?'
Whilst NSM Patricia is keen for 'a hotel night for hubby and me and babysitter for baby.'
Whatever kind of break you want to book, Hotels.com is a great place to look – or see if you can get some Last Minute Deals.