Coming up with fun kids party ideas can leave you scratching your head as you struggle to figure out a theme or find the right spot for a celebration! But Wild Birthday Parties at Ku-ring-gai Wildflower Garden are the perfect all-in-one adventure. North Shore Mum Michelle Stone took her daughter for a celebration in the gorgeous grounds.

---
I really love nature and bushwalking, so when a friend and I were discussing kids party ideas and she suggested we have my Miss 6's birthday party at the Wildflower Garden, I was immediately intrigued!
I knew from past excursions that the gardens have many short, beautiful walks suitable for small children that meander through ponds and under sprawling trees, plus abundant wildlife, beautiful maintained garden areas and undercover pavilions for cake time!
Kids Party Ideas: Ku-ring-gai Wildflower Garden
I called Ku-ring-gai Wildflower Garden and was happily cared for by Ranger Tom from their team, who suggested the 'Animal Encounters Wild birthday party' would be the right match.
Here are some of the many kids party ideas options on offer:
Nature Play (1-5 years): Celebrate the special day with an immersive natural experience! Kids will explore our bushland, meet local fauna and get their hands dirty with a fun nature based activity.
Nature Superheroes (6+ years): Be the hero the wild needs. Kids will create their own eco-capes and have an adventure in our unique bushland, discovering the amazing adaptations in nature that make our flora and fauna truly super.
Animal Encounters (6+ years): Connect with your inner animal. Kids will explore our amazing wilderness, find wild creatures, meet some of our favourite Australian animals and play some animal games.
Art Adventures (6+ years): Art with a natural twist. Kids will go on an exciting outdoor adventure where they can get creative and make their own natural eco art work.
Survival Skills (6+ years): Want to learn the essential skills for surviving in the wild? Kids will go on a survival bushwalk, learn about bush foods and practise survival skills.
Campfire Experience (6+ years): Learn the skills needed to build a campfire. Have a heap of fun cooking treats and telling stories around your crackling campfire. This theme runs April to September.
On the day: Wild Birthday Wildflower Garden
We invited 20 friends to meet at the gardens, hosting the event at Caley's Pavilion Patio, which has a spacious undercover outdoor area, with kitchen and bathroom access. The undercover area looks out across green lawns studded with ornamental furniture, while the bottom of the garden leads to a maze of wooden ramps that carry curious kids through wetlands where they can spot frogs and other creatures.
When we arrived at 9:45am, I was pleased to see that the outdoor area and BBQs had been thoughtfully configured into a large table for guests and breakaway groups for parents. Due to the large size of the venue we were able to host around 50 people not including the ranger for our party (even during restrictions). It was so special to invite my many nieces and nephews and all my daughters friends to be together, especially during a year when so many gatherings have been limited.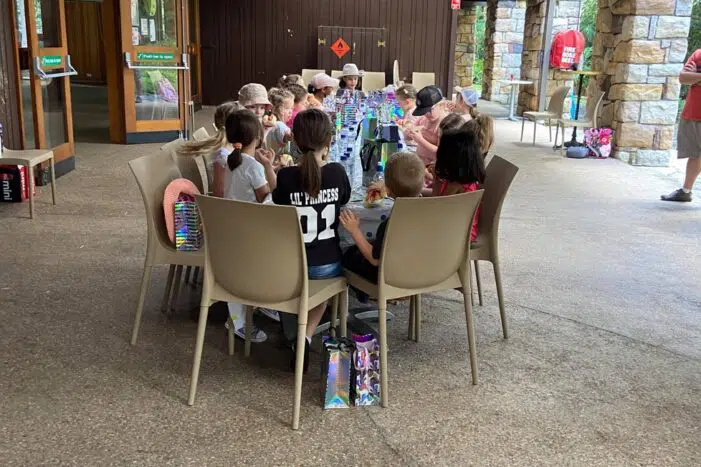 Next up, our lovely ranger Natalie arrived. Natalie is referred to by other rangers as the 'Pied Piper' is a natural with children, warm and calm. She first asked if we needed help with our set up and proceeded to gift the birthday girl with a beautiful "ranger's hat" complete with special feather placed in the hat band.
Then the guests began arriving. Our excited guests arrived on the patio (there's convenient parking right outside the pavilion). After an acknowledgement of country, Ranger Natalie led the children in short, fun games to help us connect in with the spirit of the area, the animals and bush. We were then led on a short bush walk to the learning area where we got to meet lots of animals and learn about them.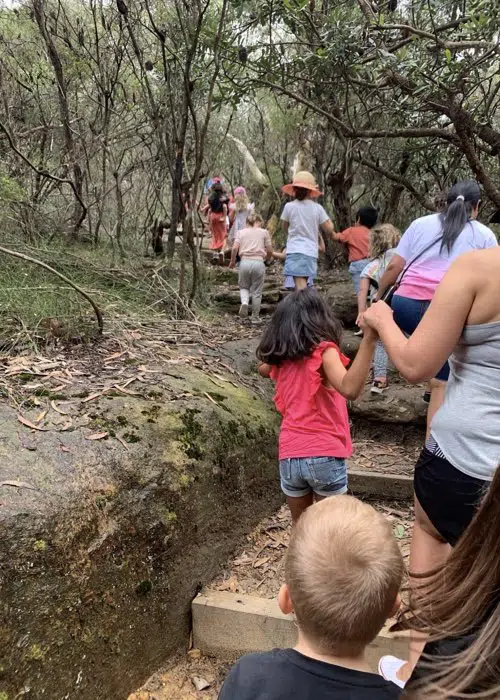 We were able to get close to loads of creatures, including a turtle, frogs, spiders and even got glance at the ducks in their happy home! Ranger Nat handled the critters, with options to get closer if the more curious children wished. We learned facts about spiders and other animals, as well as stopping off at interesting spots for some quick facts as we traveled between the pond area and other animal habitats.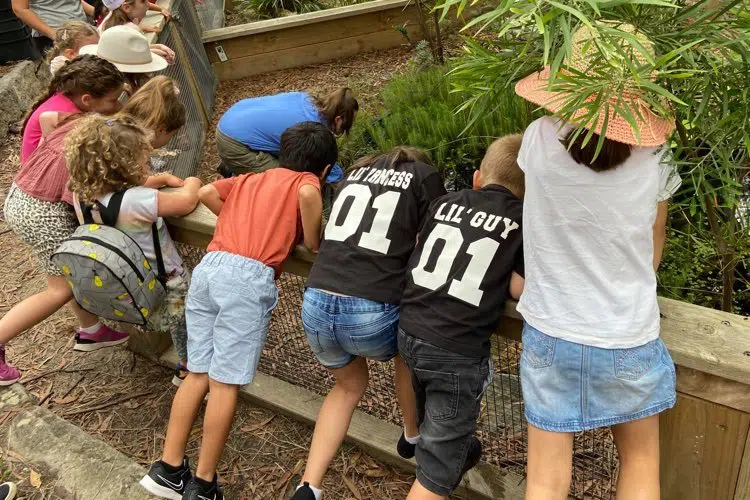 After cake, we had the idea of migrating down Banks track on another fun mini-bushwalk to Lambert's clearing playground (with the children still at peak excitement). Thankfully, I had arranged for the party food in individual bags to make porting the party fun and easy. Clean up was minimal in this way, as there were no platters of food out, and we could continue to explore! Yay!
So after hotdogs and cake, we headed off down to the park, where the kids ran off their excitement, and sugar, not before wandering almost out of the area when one spotted a huge monitor lizard… all went to investigate.
We had an absolutely lovely time, the kids had fun in our beautiful bushland after meeting lots of animals on their ranger experience, and the adults remarked at what an easy set up it was. It was easy, unique and affordable, my only complaint was that it seemed to go too fast!
Thanks Ranger Tom, Natalie and the team. We will be back!
Essential Details: Wild Birthday Parties
Where: Ku-ring-gai Wildflower Garden, St Ives
Cost: From $20 per child
---
Disclaimer: Our reviewer was provided with a complimentary birthday party in return for her honest review. All thoughts and opinions expressed are her own and not influenced by the company or its affiliates in any way.