Looking for some family-friendly dining on Sydney's Northern Beaches? North Shore Mum, Laura headed to The Collaroy for a spot of lunch one weekend, and checked out the fun kids' activities on offer. She thought she'd just be there for couple of hours, but ended up staying in Collaroy the whole day!
---
The Collaroy sits right on the beachfront and boasts incredible panoramic views of the peninsula. Before we settled in, we took a stroll along the beach to work up an appetite and soak up the stunning scenery but our beach experience didn't end there! Once we made it to The Collaroy, we found the inside-outside design of the space (including bi-folding windows) and open and airy dining room allowed us to enjoy the views from inside.
The venue's beachside vibe means it has a very welcoming and relaxed atmosphere, and as we walk in we immediately see other families enjoying brunch. The chatting families and smiling staff reassure us that families are truly welcome.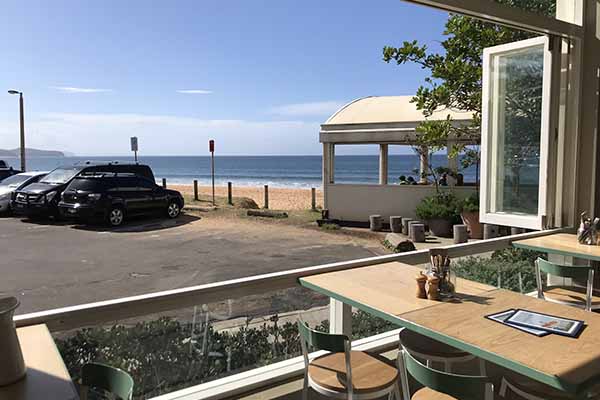 Free Kids Entertainment: Games room and Reptile Man show
As we explored, one of the first things we found was the kids area- and I don't think we left for over an hour! The top-notch area has a huge variety of kids playthings, including Giant Connect Four, a huge, wall-mounted magnetic Scrabble game, plus building blocks, colouring in and more! And when I say "we" didn't leave the play area for over an hour, I mean adults too!
Besides the games, The Collaroy also offers free kids entertainment from The Reptile Man and his live show featuring lots of creatures- and he was fantastic! Not only did he keep the kids entertained with Squirt the turtle and Freckles the snake but he was funny and captivating for the adults as well! We were all "LOL'ing"! The show was educational and so interactive and he included everyone in the crowd in his talk. I would highly recommend stopping by for this show alone! Check the listings on the website for other special events or school holiday activities to enjoy, from kids yoga classes to arts and crafts sessions.
Even without a show, the kids area is great fun. It sits in an enclosed corner of the venue so you can easily find a spot in the dining area and enjoy your coffee or lunch in peace but still watch over your kids whilst they play.
The Food at The Collaroy
When it came time to satisfy our hungry tummies, we were excited about the awesome menu options and very impressed with the food!
The Collaroy has three main eateries:
The Kiosk
Vinnie's Pizza
Upstairs Restaurant by chef Jordan Toft
There's so many fresh, vibrant green bowls from The Kiosk that I struggled to pick just one, but I love haloumi and it's not something we cook at home so I went for the Quinoa Bowl (that included the gorgeous cheese!) ($19) and hubby went for the Chicken Bowl ($19). They were both delicious! My son had the kids burger ($13) and my daughter had a cheese and ham toastie ($13). Hubby loved his salad bowl, but he was secretly quite happy the kid's meals were served with fries so he could sneak a few (that's of course when the kids would let him). The fries were thick cut and crisp, with a light salt seasoning.
The Collaroy also has Sports Bar as well as a covered outdoor terrace which takes you even closer to the spectacular views across the peninsula. Food is available in both areas but if you are just looking for a coffee stop then the kiosk also sells some very tempting cakes and sweet treats!
The restaurant menu includes tempting sharing plates, hearty burgers and plenty of fresh fish and meat options as well as a wood-fired pizza menu, so there really is something for everyone. There's also kids menu (that is also colouring-in!).
Nearby Attractions in Collaroy
After lunch, we headed outside to walk along the beach (very pram friendly) on the way back to our car – but ended up staying for what was left of the afternoon! Collaroy Beach Playground is just a few minutes walk away, and I personally think it's one of the best parks I have seen in Sydney for my young kids.
Overall, a visit to The Collaroy in itself was delicious, beautiful and so relaxed with the kids, but it can also easily be made into a day trip full of entertainment, fresh air, scrumptious food and lots of fun!
The Collaroy: Essential Details
Address: 1064 Pittwater Road, Collaroy, NSW
Hours: 7:30am – 12:00am (midnight)
Phone: (02) 9114 7346
Parking: There is parking right outside the venue but you will be paying $8 per hour off season and $10 in season so I would highly recommend parking around some of the local streets where it is free, at least for an hour, if not all day, so allow time to find a spot during peak hours.
---
More family-friendly dining around Sydney's North Shore