Heading to the Hunter Valley with kids? Many people think of the Hunter Valley as a grown-up's playground; wine tours and cellar doors, deliciously fancy food, luxurious properties and beautiful landscapes, all set in peaceful, quiet surrounds. Bianka Ford hadn't been back to the Hunter since she swapped wine bottles for baby bottles, but decided to take her family there for a weekend.
---
Believe it or not, the Hunter Valley is an amazing place for families! Zoos, Gardens and Kids Clubs (oh my!) are just the tip of this plentiful iceberg…
Accommodation: Crowne Plaza Hunter Valley
The Crowne Plaza Hunter Valley is an absolute winner for fun family holiday accommodation. Now that we're parents there is nothing romantic about sharing a TV-free treehouse in the middle of the woods with a couple of kids! So, if your idea of romance is spending some quality time with your significant other while the kids are having the time of their lives, this hotel should be the top of your list.
The resort is massive. There are rooms, villas and facilities as far as the eye can see and it can all be a little overwhelming, but once you get your head around the fact that everything has been laid out for the ease of guests, it all becomes wonderful. I realised this after I spent a good amount of time searching for the wifi password…only to find my devices automatically connected to the high speed internet available throughout the resort.
Not only are the rooms spacious and clean with low interference from neighbours (we didn't even see ours, much less hear them), there is loads of family entertainment ready to kick the trip up to an eleven out of ten.
The Water Dragons Kids Club is out of this world. Imagine the most welcoming daycare and double its appeal – we're talking a large outdoor play area under shade, cupboards full of paint, glitter and all kinds of art supplies, a barnyard with kid-friendly pigs and chickens, and a clean kitchen for feeding your little ones with healthy food. If you have a 3-11 year old toilet trained child, you can drop them off at the Kids Club for some guilt free time without the kids. And yes, the concierge at the hotel will schedule a wine tour that co-ordinates with the opening hours of the centre!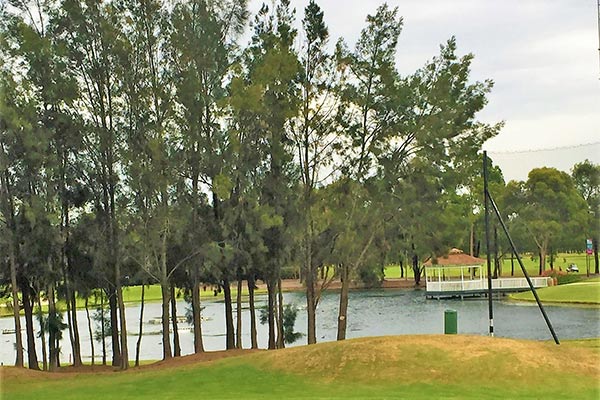 The child-friendly experience doesn't end there. The family can also enjoy:
The massive oasis-style resort pool
A carousel
Not one but TWO train rides around the resort
A well-stocked arcade games room
School holidays are packed with events for the kids such as Pasta Making Classes, Kids 'Circus' Themed High Teas, Cupcake and Gingerbread Decorating Classes, and a designated "Kids Oasis".
Plus, the restaurants have something to cater for even the pickiest of eaters. The breakfast buffet in particular has every conceivable food option, including an omelette station, a crepe-making master and the barista-made coffee is hard to beat.
Although we didn't have time to visit Hunter Valley Zoo, The Crowne Plaza brought the zoo to us with an Animal Wildlife Show as part of their school holiday program. They brought brand new goats for a visit – and fortunately those goats don't stop eating so all of the kids got to play with the goat kids while feeding them bucket load after bucketload of hay! There were also lizards and turtles and possums, but they were upstaged by one naughty little rascal; even the snake and crocodile were no match for the wombat that would not be contained! That little fur ball escaped everything put in its way and made a run for it much to the delight of the squealing kids! Everyone from 2-year-olds to 12-year-olds were fascinated. Well let's face it, I was too! Those possums are much cuter when I can pat them, and they aren't tap dancing on my roof at 3am!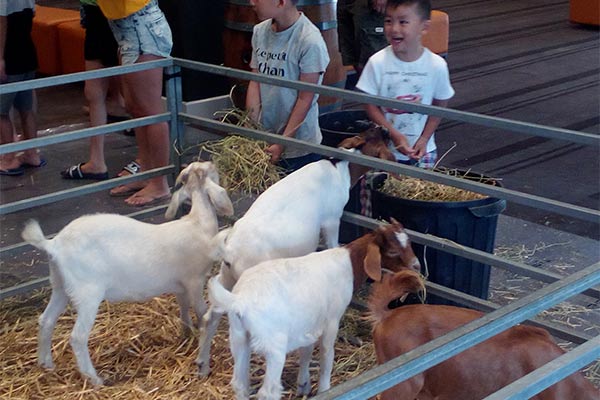 Visiting the Hunter Valley wineries
At some point we did need to leave the resort! I'm not very sporty so the golf course, gym, tennis and basketball courts didn't draw me, so we headed out and here is where I do have a little bit of a criticism. I might sound like a city slicker, but when dealing with 37-degree days and working around toddler nap times, it makes it hard to get to cellar doors for a bit of wine tasting before they close at 4pm. We stopped in to a few different places only to find them long closed. But then a lightbulb flashed over my head, and I called the concierge at The Crowne! I was directed to Petersons, the Broke Road Cellar Door.
Fortunately, they not only open until 6 but their wines are delicious! Maureen and Kathryn not only knew what they were talking about when giving us our wine tasters, they were incredibly friendly with kids. As soon as they saw my little one, they whipped out a bowl full of cheese and crackers and had her on the mat and playing with the other kids there, so I was free to taste my heart away. They even had a dog bowl out the front so it's family friendly in the fullest sense of the word. I'm a big chardonnay fan and I wasn't let down. Just delicious. My mum stocked up on their champagne but I hear that their pink champagne is also a winner.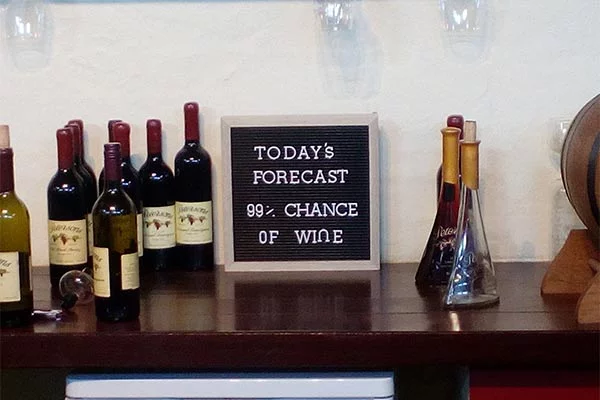 Hunter Valley Gardens
Hunter Valley Gardens are a treat no matter the time of day. Lucky for us, the Christmas Lights event was still on, so we got to marvel at some of the most beautiful light displays nestled in some of the most gorgeous gardens I've seen. Two million lights were installed throughout the gardens and displays were waiting for us around every turn, including:
A pavilion full of animatronic reindeer, elves and other Christmas favourites
Food and beverage stalls
Roaming magicians
The custom-built Ferris Wheel, carousel and swing chair (painted to old timey perfection)
Jumping castles
Relaxation areas for little people who need to burn off some extra energy
If you haven't been for Christmas, honestly, it is worth the 2-hour drive from Sydney just to marvel at the beauty and wonder of the displays.
The fairytale theme of the Hunter Valley Gardens is so fitting as the layout blends formal gardens with whimsy so seamlessly that it does seem like something out of a dream. My daughter was delighted with the discoveries at every turn (Humpty was her favourite) while my mum was besotted with the flower varieties. I just walked around in a daze taking in all the beauty and unexpected details. My husband wasn't there, and he's the only person not a fan – and that is only because I'm now insisting on renewing our vows so that we can have our wedding in this gorgeous location!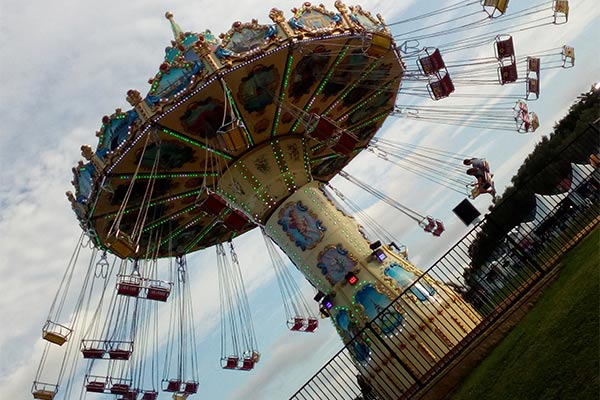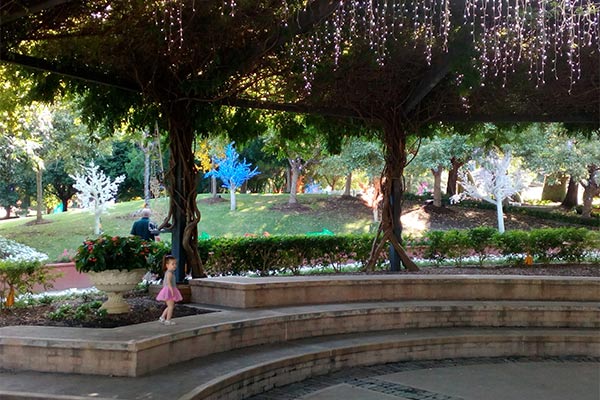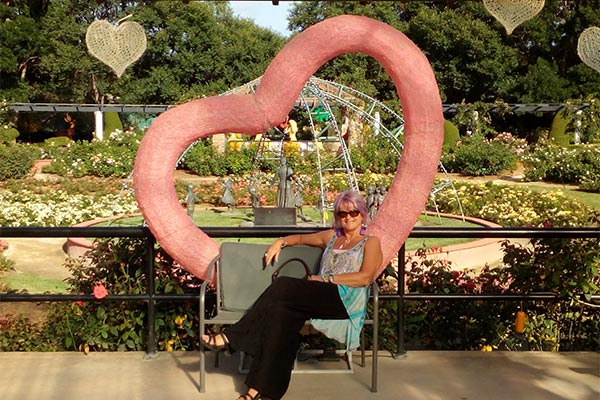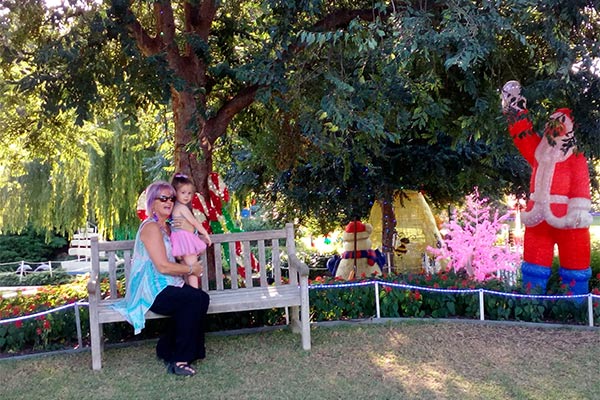 Eating Out with kids in the Hunter Valley
Exhausted and hungry, we then ventured over to Hunters Quarter for dinner. My mouth is watering from just the memory of the Rangers Valley Grain Fed Beef Rump Cap, Young Leeks, Kipfler Potato and King Brown Mushrooms, Salsa Verde, while I'm still getting the warm and fuzzies from the super friendly staff who talked with in depth knowledge about everything on the menu while simultaneously keeping my toddler occupied with activities on the lounge. It's all amazing but someone really needs to come and study the view that is seen from every table thanks to the glass wall; there was something about the cascading vineyard gently meeting the lake and greenery that will have you relaxed instantly.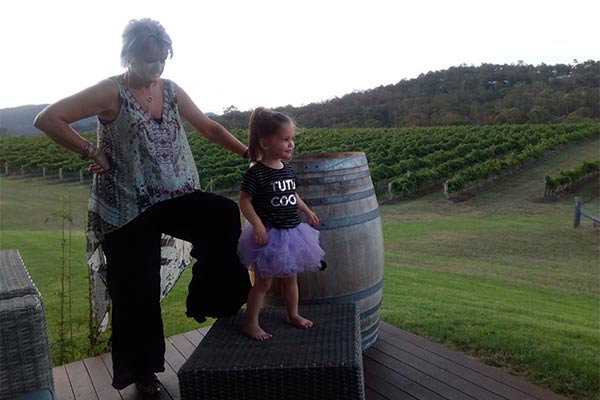 Speaking of great restaurants, we also had dinner at the Royal Oak Hotel in Cessnock. This is a restaurant that has awards up the wazoo but needed a bit of revitalisation. That's happening thanks to a new owner and young new head chef who is the talk of the town for bringing in some vitality to a Hunter Valley stalwart. You can choose between the fancy dining room or the pub meal, but the kids menu items can be ordered from either room. We chose the fine dining experience and were pleased with the food and the service. If you plan on dining here, get your taste buds ready but keep an eye on the fine dining rules- the diners next to us weren't aware that they couldn't place a packet of cigarettes on the table but boy was I glad about that with my curious toddler's quick hands!
It's hard to stop gushing about the Hunter Valley. Everything was perfect. From the accommodation that had every need anticipated and catered for to the shop that just happened to stock the Camilla kaftan that my mum (an obsessed Camilla fan) could not find in Sydney. The family friendly aspect was completely unexpected but very welcome! It's just a shame that the trip had to end, but we'll be back, VERY soon!