On Saturday 4 November, North Shore Mums Smiles2U is hosting a screening of the hilarious chick flick 'A Bad Moms Christmas'. If you're not the perfect mum (let's face it, who is?), you'll find yourself laughing until your cheeks hurt. So if you need a laugh and a night out with the girls, be sure to book your tickets…
The screening of A Bad Moms Christmas is to support the incredible local community group, North Shore Mums Smiles2U, who create thoughtful care packages for children and parents who unexpectedly find themselves in the emergency department of a local hospital. North Shore Mums Smiles2U aims to make this worrying time just a little bit easier by providing entertainment for the kids and little luxuries for the parents.
Tickets for the night are just $30, and include the screening, a goody bag and lucky door prizes! And even better, 100% of profits are going to Smiles2U, so they can continue to support their five local hospitals and all the local families who use them.
The impact that these bags have on the people who receive them is really heartwarming – and five North Shore Mums have shared their experiences below. If you want to support this initiative, rally up your Mother's Group and organise a mums night out (and sneak in an early dinner or drink beforehand!).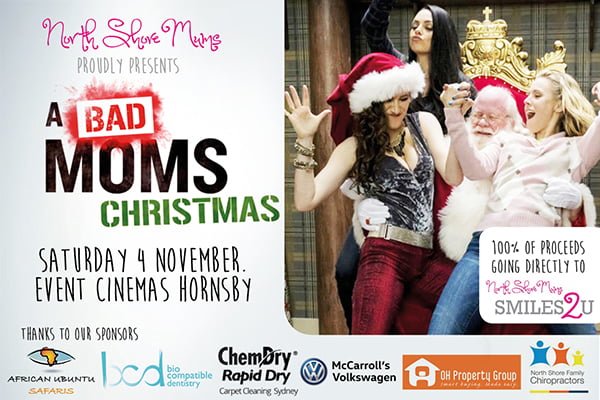 ---
'My husband had just left for a trip Singapore, and two hours later my 1-year-old started vomiting black! I knew this could be very serious so I just got in the car and brought her to RNSH without thinking ahead. She was rushed through put on a drip etc in the emergency department we were there for 14 hours. After six hours with no sleep and no idea what was wrong, I was very worried. The unit manager brought me a Smiles2U bag. I burst into tears, I had been trying to be so strong but this was the first time someone had acknowledged how hard this was for me. I was so grateful for the snacks and magazine to take my mind off things and being able to brush my teeth and shower made me feel human again after 24 hours in hospital! I was better able to cope when we were eventually rushed to Randwick Children's Hospital by ambulance! Turns out my daughter had a bowel intussusception. She is now a healthy 3 year old so it's a while ago but I have never forgotten what it meant at that time.' – Bronagh Quinn.
'My daughter had pneumonia and was put on oxygen. The day that Smiles2U distributed the gift, we had an extremely tough morning. I was at looking at my child asleep, connected to all these machines and tubes and there came a gift from a group we didn't know that cared for her wellbeing in hospital. Having no family here, this gesture brought tears to my eyes. Once my daughter was conscious and alert, she made us read the book to her multiple times. I felt that this unknown support system realised the vulnerability of the patient and their parents. Thank you for the wonderful work that you are doing by spreading joy and hope when it is needed the most. My daughter was 16 months old then and the book was on alphabets. Now at 21 months, we still read it to her and she can identify the pictures and call them out. Eternally grateful.' – Binaisha Kotwal.
'My son was in hospital numerous times over Easter due to a fungal ear infection. Fortunately he didn't have to stay overnight on any occasion but each time he did require a general anaesthetic which (given he was only 3.5) was scary for both of us. On one of the occasions he received a gorgeous toy bunny and an Easter egg from Smiles2U which absolutely made his day and which also made The SAN a much less scary place. Given we had to go back three more times before the infection cleared, it was such a relief that he had a nice association with the hospital thanks to the Smiles2U pack he received. I am very grateful to you for the generosity which helped us through a difficult time.' – Zanny Waters.
'We've had two emergency stays at RNSH. When your bubs is unwell you just want to get them to hospital barely remembering to pack the essentials (phone/wallet). After a stressful time in A&E it was so nice to receive a parent pack and be able to brush my teeth and have a relaxing shower. The chocolate was a godsend in the wee hours of the morning! Thanks so much Smiles2U, for making a stressful time that little bit easier.' – Michelle Cini.
'We have experienced two visits to emergency at Royal North Shore this year – both with my youngest daughter, and both were quite sudden so we didn't have the time to pack overnight bags – just threw a change of clothes and some nappies for my little one! The first time we were admitted, I received a parent care pack which included things like a face washer, toiletries and some Mentos (given i didn't pack a toothbrush it was great to receive this!). It meant a lot to have something to refresh myself after a sleepless night with my little one. The second time we were in recently we received a Smiles2U pack for my 18 month old. The toys & books helped to keep her entertained for the long day & night in emergency. We really appreciated the gift and it helped our stay be a little more pleasant. I will be donating a bag of toys that my daughters & I have selected from Kmart – as a sign of my gratitude towards the Smiles2U team as I know how much something seemingly small can go a long way to helping what is not a pleasant time in an emergency ward with your children. Thank you to the team at Smiles2U, North Shore Mums and to the generous families that donate time, money & goods for such a great cause.' – Melissa Branley.
---