The devastation that we are witnessing to the flood affected areas of NSW and QLD is heartbreaking. People evacuated from their homes, with only the (wet) clothes on their back. Whether assisting for the long-term or just in the immediate aftermath, here are practical ways you can aid people impacted by flooding.
---
Intense storms and rainfall across Qld and Northern NSW have caused flash flooding across both states. Tens of thousands of homes and businesses are without power or have been damaged by floodwaters. People and families have been evacuated, and don't know when they will be able to return home.
The flooding has also caused road closures, making it difficult for people to access support services, or for relief to reach them.
With thousands of Australians displaced, more to be evacuated and authorities still wading through the wreckage, much more will need to be done in the coming days, months and years to assist the flood victims.
Donate to charities
Donating money is the most practical way to offer immediate flood assistance, particularly as the flood waters begin to recede. A number of major charities are accepting donations to provide urgent relief and humanitarian support to flood-affected communities.
GIVIT
GIVIT is managing offers of donated goods, services, volunteering and funds, including corporate offers, in response to the widespread flooding across Queensland and New South Wales.
In NSW, GIVIT is working with the NSW Government to ensure donations are managed to support all impacted communities. As a still-developing event, specific areas will be updated when possible.
Please do not send unrequested donations to impacted areas. While they are grateful for people's incredible generosity, unrequested donations hinder recovery efforts. At this crucial time, it's important to not overwhelm charities on the ground or send items somewhere they are not needed, especially if we know they are crucially needed elsewhere. The GIVIT website captures all donations online, so you can see and give exactly what's needed, when and when it is needed.
The list of needed items changes as requests are filled, and new needs are identified by support organisations providing aid and relief. 100% of publicly donated funds received by GIVIT will be used to purchase exactly what's needed by people and communities impacted by storms and flooding.
Australian Red Cross
Funds raised from the Red Cross Floods Appeal will enable Australian Red Cross to provide humanitarian support to people and communities in Queensland and New South Wales affected by the 2022 floods. Based on ongoing needs assessment and amount raised, that support may include:
Enabling volunteers and staff to help with evacuation and relief centres and outreach service
Supporting people and communities to recover and to build resilience to disasters
Vinnies
St Vincent de Paul Society have launched two flood appeals to help support recovery efforts in NSW and Queensland. Donations can help provide emergency groceries, clothing, furniture, cover bills and fund a family's rent.
Donate to Vinnie's NSW's flood appeal here and Queensland's here.
The Salvation Army
The Salvation Army are running an appeal to raise funds for flood victims in NSW and QLD. Monetary donations can help provide food, clothing, toiletries, bedding, furniture, school supplies to those affected and help with the recovery effort ahead.
Help the people of Lismore via Lismore City Council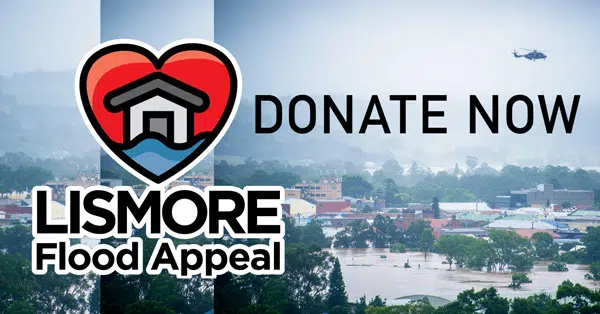 'If you want to help us, donate money. Please, we cannot accept physical donations right now. Our community is totally devastated, we just do not have anywhere to store these goods. We do not have people who can coordinate the distribution of these goods, which is a massive task' – Elly Bird, Lismore City Councillor
Lismore urges 'well-meaning' people not to make physical donations. Lismore City councillor Elly Bird has urged people to refrain from making physical donations in fear "truckloads of items" will come to the devastated town as soon as roads open.
Ms Bird said Lismore residents simply do not have the capacity to store physical donations and requested people instead make financial donations instead.
Lismore Council is accepting donations for the purpose of disaster recovery and community support arising from the current Lismore flooding disaster. In making a donation, you acknowledge that Council retains full discretion as to how any and all donated funds are used, which may include distributing funds to other organisations or persons for those organisations to use and distribute as they determine. Council has no obligation to enforce any use of funds by a third party. Donate to Lismore Flood Appeal
Mental health support
People feeling anxious, lonely and distressed can be directed to the following agencies for help:
---
More ways to support and get help during emergencies