Another school year is just around the corner – and now's your chance to make it the best one yet. Find a one-on-one tutor at a fraction of the cost with BYJU's FutureSchool. Teach your child the full school maths curriculum in just 52 classes and give them the confidence they need to succeed.
---
About BYJU's FutureSchool
Another year, another school curriculum. Now, more than ever, it might be easier to be worried about your children's education.
What have they missed out on?
Are they behind where they should be?
The past couple of years have been difficult for everyone and our children have witnessed it all. Just like everyone else they are doing their best to jump over every hurdle they face, all while keeping on track with their education and doing their best to stay positive with all the changes going on around them.
So, why not give them that extra little positive push so they can face their maths homework with confidence with BYJU's FutureSchool virtual classes for kids? 
How do BYJU's FutureSchool classes work?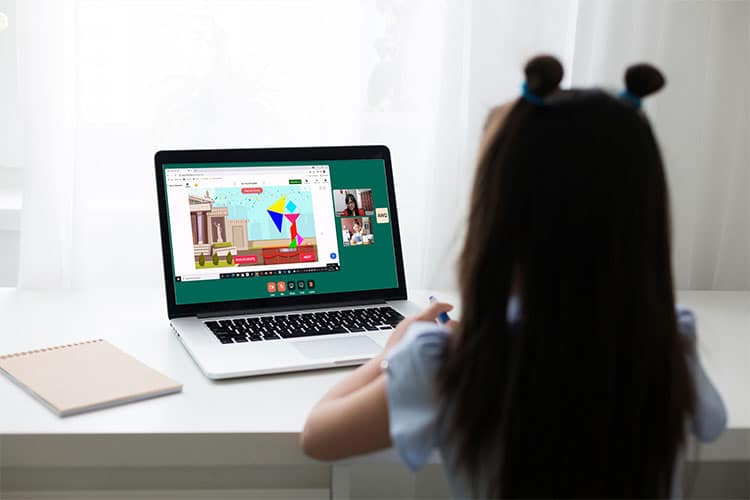 Whether they need help with concepts they can't quite grasp or maybe just a little boost before NAPLAN, BYJU's FutureSchool supports children's school learning with personalised interactive classes with a personal tutor, all while keeping things fun.
Cheaper than a traditional tutor, the classes in maths, coding and music gives your children the tools they need to fuel their own learning and imagination at the same time. More than just more work after school, children can learn how to build their own games and create their own music all with the help of their own personal mentor. All mentors are top class teachers with years of experience, so you know your child's educational needs are in good hands.
Maths
Need a little help with maths? Don't we all. The BYJU's FutureSchool Maths course can teach your child a full maths curriculum in just 52 classes, whether they're just starting with the basics or moving through to more advanced topics.
From basic multiplication to complex trigonometry and everything in between, BYJU's FutureSchool offers maths classes in one-on-one settings for school kids starting from Year 1 all the way up to Year 8.
Each lesson has real-life context and creative activities to make the concepts memorable and relatable.
Coding
In BYJU'S FutureSchool's online coding course, kids can learn how to become:
Problem Solvers
Creative Thinkers
Confident Creators
Once BYJU'S FutureSchool students master the coding basics and build their own apps, they're invited to participate in more advanced and robust coding courses.
Music
Enjoy a modern, creativity- and performance-based curriculum. Students master technical skills through songs they like, compose songs and build confidence through live performances. Practice is more fun with BYJU'S FutureSchool Music groundbreaking games and engaging projects.
Benefits of BYJU's FutureSchool
Individual learning
While the traditional classroom setting usually involves one teacher addressing as many as 30 or 40 students, BJYU's FutureSchool ensures individual attention for your child with a personal tutor. Without fear of embarrassment from classmates and peers children are then able to express freely both where they might excel or struggle, with their mentor there to support them across each subject. Geometry and long division, anyone?
Interactive online platform
BYJU'S FutureSchool is an interactive, learning platform that offers education programs on coding, maths and music designed for students ages 6-18 that will help children build confidence and problem solving, creative thinking and communication skills. Through the platform, students receive personalised attention with live access to a personal tutor in a one-on-one setting as well as hands-on activities. And all the classes can be done from the comfort and safety of your kitchen table or their bedroom!
Flexible learning
No two children are the same, and each child has his or her own style of learning. To create as much personalisation as possible, your child's teacher and specific online coursework will be chosen based on their individual learning level and not just based on their age.
What their customers are saying…
"BYJU'S Coding Class offers a very friendly and interactive learning experience. I wanted to learn coding for quite some time now but never had the opportunity or time to do it, but the online classes allowed me to work around my busy schedule. The teacher was super kind and patient, supporting me throughout the start of my coding journey. Each session, I learned something different, which interested me and hooked me on learning more coding." – Bryan Van, BYJU's Future School Coding student

"My daughter was taught concepts in a new and creative way and she really liked it." – Reena

"We loved the connection with the teacher and student. The format was very interactive, and my son thoroughly enjoyed the class." – Christin

"Without a doubt, our daughter's favourite activity after sschool. Can already see my shy little five year old blossoming into a confident young girl." – Bandna
Book Now: Free Trial Class!
Ready to start off a new school year with a bang? You can book between six and 80 lessons dependent on what you and your child want to achieve.
Sign up and try out your free trial class in Maths, Coding or Music!
Follow BYKU's FutureSchool on Facebook & Instagram.
---
Want more tips for school?