Halloween Treasure Hunt time! Are you looking for a spooktacular Halloween activity for your kids? Perfect for a Covid-safe alternative to Trick or Treating, a scavenger hunt is guaranteed to delight your kids and satisfy their need for sweet treats this Halloween!
---
How to plan a Halloween Treasure Hunt
With our FREE Halloween Treasure Hunt printables, it couldn't be easier to plan the activity!
All you need to do is get everything you need before the treasure hunt, so there's no last-minute rush – like sweet treats and prizes, then check out our free Halloween scavenger hunt list.
What you need for a Treasure Hunt
Treasure Hunt clues
We've sorted this for you! Download and print our FREE Halloween Treasure Hunt printable.
DOWNLOAD THE HALLOWEEN TREASURE HUNT PRINTABLE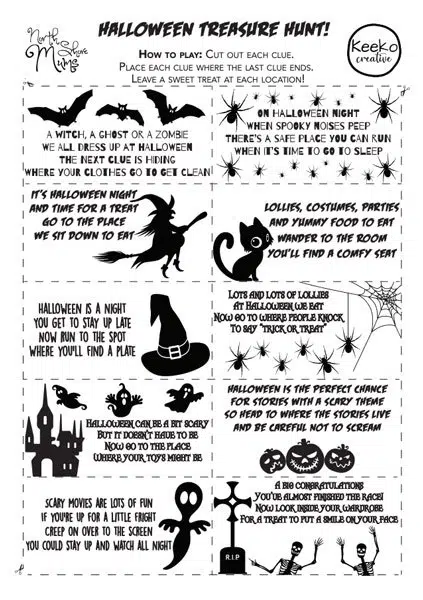 Cut out the ten clues, and hide them around the house in the correct 'next' hiding place.
Washing machine
Dining table
Cupboard where plates are kept
Toy box
Television screen
Bed (under pillow or doona)
Living room couch
Front door (under the door mat?)
Bookshelf
Child's wardrobe
Treats & Prizes
What would a treasure hunt be without any treasure? Stock up on plenty of Halloween-themed prizes to hide with this Halloween clue game. Halloween sweets always go down a treat but if you're keen to avoid giving your kids even more sugar on Halloween, pick up a selection of small toys instead.
Good hiding places
We've kept our Halloween scavenger hunt clues fairly vague so that you can vary the level of difficulty of your treasure hunt for older and younger children.
Want to make your scavenger hunt more difficult for older children? Here are a few ideas:
Choose harder hiding places for your Halloween clue search (for example, for the clue that leads to the bookshelf, you could hide the treat on a shelf but for older kids you could hide it in pages of a book)
Set a time limit (the shorter the time limit, the more exciting the treasure hunt will be!)
Turn down the lights to make your treasure hunt even more spooky and the clues harder to spot! A Halloween scavenger hunt in the dark!
Take it outdoors! A Halloween treasure hunt outdoors gives you even more possibilities when it comes to hiding places.
Have fun!
DOWNLOAD THE HALLOWEEN TREASURE HUNT PRINTABLE
This free printable treasure hunt was created by North Shore Mum, Liv from Keeko Creative! For more fun printables, check out Keeko Creative on Instagram or shop her range on Etsy.
---
Want more Halloween fun?