There's a fabulous FREE play area for babies, crawlers, toddlers & little kids at Macquarie Centre. It's a great spot to stop for a play (and a coffee!) when your kids need a break from shopping. Watch our video review here! 
If your little one loves to crawl, toddle or explore, this new play area is for you! Located on Level 1 at Macquarie Centre (outside Target), it's full of brightly coloured play equipment, and carefully designed to take into consideration all the issues parents face with play areas.
Parking for prams
First up, there's a large dedicated 'pram parking' zone outside the entrance, meaning prams are contained and not left haphazardly for people to trip up on.
Fenced, with one entry in & out!
There's also just one entrance and exit to the Play Zone, minimising the risk of a child slipping out unnoticed. Parents can choose to sit on the seating bench inside the play area (don't forget to pop your shoes into the integrated shoe cubbies underneath the bench!) or at the tables outside if you prefer to get your caffeine fix.
The play zone is enclosed with a colourful pencil fence with large enough gaps to see your child – but not wide enough for them to slip through unnoticed.
Play equipment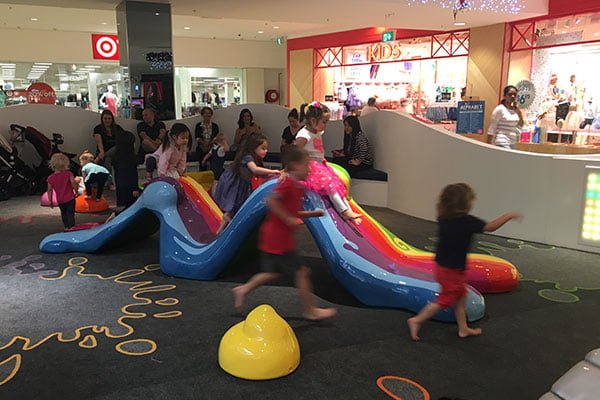 And as for the play elements? The play zone at Macquarie Centre features oversized art themed sculptures made from a foam product coated with an extremely durable rubber like substance. Although it looks like a hard glossy plastic from afar, it's actually quite spongy… minimising the risk of bumps and bruises for little explorers.
If you're familiar with the dazzling brightly coloured spheres suspended in centre court's atrium, you'll see how the design of the play area was inspired by this masterpiece ('Epic Love' by Nike Savvas).
The central play element is a giant Paint Wave creating a series of tunnels, a climber and multiple slides.
Crawlers will love the peek-a-boo windows, little blobs of paint to pull themselves up on and colourful pencil fence to walk along, whilst toddlers and pre-schoolers will love climbing, jumping, balancing and sliding on all the elements.
The play area design concept
Macquarie Centre explains, 'The play area responds and connects with this artwork with a design that is colourful, sculptural and a bespoke environment encouraging play and learning through colour, shapes and movement. Our purpose was to create a unique play space for children to play, encourage imagination and social interaction and to provide a social hub for families to interact and connect.'
North Shore Mum, Alida says: 'My 4 year old daughter loved the new play area. It's so full of colour! She loved the fun soft slide and interactive lights. Great location!'
Essential Details: Macquarie Centre
Address: Macquarie Centre, corner of Herring & Waterloo Road, North Ryde
Location: The play area is located outside Target on Level 1.
Parking: There are over 5000 parking spaces and offer up to 3 hours of FREE parking per day.
More information: Go to the Macquarie Centre website for trading hours and more information.
---
Want more indoor play fun around Sydney's North Shore?