Anyone with young kids on the North Shore probably relates to wanting more fabulous cafes around the North Shore… where you can eat in peace while the kids run ragged at a nearby play area. Well, we have good news! Frankie's Food Factory has made its way to Terrey Hills and it's the perfect spot to grab a bite with the little ones. Here's what our reviewer Felicity Frankish has to say.
---
Welcome to Frankie's Food Factory in Terrey Hills! What can I say, as soon as I heard there was a café serving delicious food with a great play space for the kids, I knew I wanted to try it out.
I'm already a huge fan of Frankie's Food Factory, and despite the drive from Wahroonga, have frequented their Glenhaven café a number of times. So I was very excited when I heard they had taken over the café at Flower Power Terrey Hills.
With my older girls at school and preschool, I had a day with just my two-year-old son, Elliot, so I bundled him up and we went to check out what this new café has to offer. Safe to say, we weren't disappointed.
Getting to Frankie's Food Factory

Getting to Frankies from the North Shore is nice and easy. Jump on Mona Vale Road, cruise through St Ives and about 10 minutes later you'll arrive at Flower Power Garden Centre in Terrey Hills. Frankie's Food Factory is nestled inside. There's a nice big car park that can be accessed directly from Mona Vale Road, or you can turn left into Cooyong Road and enter the car park from there.
Outdoor play area
I'm going to have to talk about this outdoor play area first, since Elliot beelined straight for it. I had barely put my bag down at the table, before I was whisked away to play.
There's so much for kids to climb on and through, with numerous tunnels, monkey bars, a big slide, and so much more.
I hung around to watch Elliot play, before realising I wasn't needed at all. The entire playground is completely fenced in, so I went back to the table and – believe it or not – enjoyed a coffee in peace.
Coffee lovers paradise
There's not many an outing I go on in the morning with kids that doesn't involve coffee along the way. If the kids are lucky, there's a babycino in it for them some days as well, too!
Elliot was beyond lucky on this trip. I ordered him the babycino, and his face when it arrived said it all. He had his very own little tray, complete with sprinkle topped babycino and a marshmallow individually wrapped (Covid-safe, or you can whisk it away for a later time, like after their meal!).
Of course, I had my own coffee too, complete with tray. It was big (always a winner) and delicious.
What's on the menu at Frankie's Food Factory?
Next, onto the food! I had my mum join us for this tasty lunch, and we were both drawn to the salads on the menu. I will admit, I'm never usually a salad person. If I'm eating out, I usually to pick something a little more exciting.
But the salads at Frankie's Food Factory were beyond exciting. I went for the Hoke Poke bowl with fresh salmon and was wowed by the presentation when it arrived.
Mum went for the chicken salad and was equally impressed with her dish.
Elliot, naturally, opted for the chicken nuggets and chips and was pretty happy with his choice. He devoured the entire plate!
Of course, if you feel like something a little more substantial, don't be limited to the salads section. You will also find burgers, bagels, plenty of fries, wraps, tacos, nachos, pasta, risotto and more.
And the sweet treats look amazing! We were all far too full from our dishes to indulge, but I already have the pancakes on my list to try next time. Meanwhile, Elliot is eying off the kids' loaded ice cream cup.
A spot of shopping in the nursery!
The fun didn't end there. Since we were already at the nursery, we took a look around. The kids all received planters for Christmas and I have been very slack about buying things to plant.
I took the opportunity to stock up! We came out with tomatoes, strawberries, lettuce and parsley – so wish me luck!
Elliot's favourite part was the little fishpond in the store, where he spotted the nice, big fish who all swam straight to him (looking for food).
Final thoughts on Frankie's…
Good food, kids entertainment, good coffee, plant shopping nearby… this place has everything you need for a delicious meal out with friends and kids.
I am already planning a trip back with Elliot's mother's group, so the kids can play together while we have a little peace and quiet to actually talk!
Plus, with so many amazing dishes on the menu, I'm going to have to find time to make my way through them.
Essential Details: Frankie's Food Factory, Terrey Hills
Where: Flower Power Nursery, 277 Mona Vale Road, Terrey Hills
Parking: Free car park with lots of spaces
Phone: 9899 2299 (select 1 for Terrey hills)
Website: frankiesfoodfactory.com.au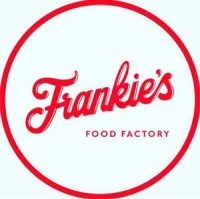 ---
Outdoor fun around the North Shore