Do you want to make dad feel special this Father's Day? With lockdown extended, you might be looking for some great ideas that you can enjoy around the home – like breakfast in bed, handmade gifts, DIY games… Take a look at the Father's Day ideas below.
---
In Australia, Father's Day is on Sunday 5 September 2021. If you're wondering "what can I do for Dad on Father's Day during lockdown?', we've got you sorted with some fabulous Father's Day ideas. His some ways to let dad know how much you appreciate him and to make him feel special on his day.
1. Get crafty with a card
Nothing quite says "Thanks Dad, we appreciate everything you do for us" like a handmade card that has been decorated by the kids!
To make it even more special, download and print our free Father's Day 'All About My Day' sheet – your kids can fill out the 'All About My Dad' Q&A interview & draw a pic of him. It's guaranteed to give him a chuckle or two (and feel all warm and fuzzy inside).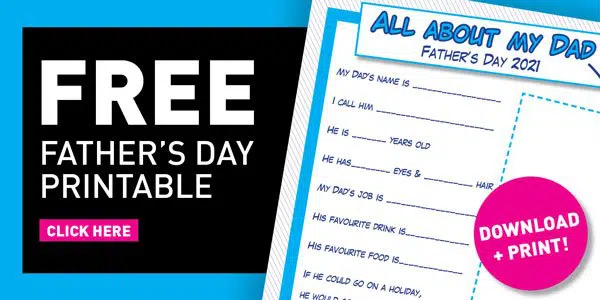 DOWNLOAD 'ALL ABOUT MY DAD' PRINTABLE IN COLOUR
DOWNLOAD 'ALL ABOUT MY DAD' PRINTABLE IN BLACK & WHITE
2. DIY play mat shirt (aka back massage)
There's no gift day will love more than a handmade playmat shirt. And there's so many options for you to choose from. There's the traditional car track that kids can zoom around, number tracing, letter tracing, and more. Simply head onto Pinterest for some inspiration.
The best part is, dad gets to lie face down on bed and enjoy a nice back rub while the kids play! It's one of the best Father's Day ideas that's a win-win.
There's plenty of online stores that sell these shirts, but you can also get a little crafty at home and make one. Grab some fabric pens from Spotlight, and let the kids show off their creative skills on one of dad's old shirts (maybe check with dad first).
3. Order a Grazing Board
Grazing boards seem to be all the rage this lockdown, and it's easy to see why! With so many delicious options to choose from, all packed full of a variety of yummy treats, it makes the perfect treat for dad this Father's Day. From savoury boards to sugar-packed dessert favourites, you're sure to find something he loves.
Even better…you can help him taste test the goodies…
Check out 10 delicious Grazing Boards to treat Dad on the North Shore here.
4. Fire up the BBQ
Spring has sprung. which means it's time to dust off the barbecue and get cooking for the sunny months. Get the kids to chip in and give the barbecue a good Spring cleaning to surprise dad with on Father's Day.
He'll love nothing more than coming out to a freshly cleaned grill, ready for searing some of his favourite foods. A trip to the butcher might be in order to make sure you have steaks, sausages, kebabs, and all dad's favourites ready to go for him. And don't forget to throw in a few of your favourites too!
Get out in the sunshine and enjoy a family barbecue together. It's the perfect Father's Day idea to mark the beginning of the season.
5. Put on a show
Get the siblings together (and even get mum involved too) and put on a show for dad to enjoy! You can do something as a group, or everyone can pick their own talent to perform.
There so many options to choose from:
Sing a song
Do a dance
Put on a skit
Try some stand-up comedy
Take part in a talent show
Tell some dad jokes (just for dad!)
It's the perfect way to keep the whole family entertained, while having plenty of laughs in the process. You can even put dad on the spot and tell him it's his turn! I'm sure he will come up with something fabulous.
6. Family game night
Let the games begin!
Why not plan some good, old competitive fun at home by hosting a games night for dad. Raid the cupboard and pull out some family favourites ready to go.
Need some more ideas? Check out our post on card games the whole family can enjoy – all you need is one deck of cards to enjoy hours of fun.
It's a great way to have some family fun (as long as things don't get toooooo competitive). You can even place some little bets down… winner gets to pick next movie night movie. Loser has to do the winner's chores for a week.
Of course, since it's Father's Day, you might have to go easy on dad…
7. Create an at-home wine (or beer) tasting
Does dad love a wine or beer every now and then? Why not put him to the test with a tasting he's sure to enjoy this Father's Day.
Pour a couple of small glasses of some wine or beer you have at home and get dad to taste test them for him. Tell him to be creative about the flavours he's trying.
In fact, kids can join in with him! Pour yourselves a glass of juice, milk or water and have your own taste testing session. The most descriptive taste tester is the winner!
If you're looking to treat dad, you can even get him a virtual wine tasting experience for Father's Day. The perfect way for him to relax back and enjoy a little 'him' time, enjoying something he loves. Check out our article on Virtual wine tastings in your home here.
8. Go camping… at home!
Do you love camping with Dad? You can either set up the tent in the backyard or, if it's too cold to head outdoors at night, set up camp inside!
With mum's help, clear out a space and sent up the tent to surprise dad with. You can even stock up on marshmallows and popcorn and have your best campfire scary stories ready to go. Finish off the night with a scary movie that you can watch from the comfort of your sleeping bags.
If you ask mum nicely, you might even be able to sleep in the tent for the night! But, don't blame dad if he chooses his nice, comfy bed instead. It is his day after all…
9. Have a pizza party
You could order in the pizza…but everyone knows it's much more fun to make it yourself. Plus, you get to choose exactly what goes on it!
Throw dad a pizza party.
Have the bases ready, with different toppings ready to be thrown on top. You can get creative with your designs (faces, animals, etc) and have plenty of fun in the process.
Pop it in the oven and there you have it…homemade pizza night. Delicious!
10. Organise some fun games
What are some of your favourite things to do with dad? Go bowling? Putt putt? You can recreate all these amazing games…from home! That's right, bring the fun to you for a day filled with laughter and family entertainment everyone will enjoy.
Set up your own backyard bowling with some empty bottles.
Get creative with Duplo/Lego and other toys you have lying around to create your very own Putt Putt course.
Have a paper plane flying competition.
Make some kites you can fly in the backyard.
For more great fun ideas you can do at home, head to our post on 7 at-home activities!
11. Head to the park
Take the whole family to the park to enjoy some active fun in the sun! Here are a few ideas to make your time at the park memorable:
Fly a kite
Play tag
Play hide-and-go-seek
Play catch
Hold a relay race
Ride your bikes
12. Quiet time
After all our dads do for us, he may enjoy a little time out to himself. One of the best Father's Day ideas is to set up a space just for dad, so he can enjoy doing something he loves.
Whether that's a good book in bed, on the couch with a game console, or outdoors playing sport, giving dad the opportunity to indulge himself is a real treat! It's the perfect way to show how much you care.
---
More on dads and parenting: