Sydney's hypnotic festival of lights and music is back, and Vivid 2022 promises to be a more colourful affair than ever. Set to run for 23 nights from Friday 27 May – Saturday 18 June, Vivid Sydney will feature family-friendly installations and activities that children and adults can all enjoy. Here are our early picks for the top North Shore attractions this year.
---
Vivid Sydney bares the soul of our city through creativity, curiosity and change. For 23 days, the festival will connect our city to light artists, music makers, brilliant thinkers and all creatives. Seek change. Spark a new idea. Shine with Vivid Sydney.
1. Taronga Zoo, Mosman
Wild Lights at Taronga Zoo is back as a Vivid Sydney location for 2022 and will be brighter and more colourful than ever before with an array of wild, inclusive and awe-inspiring installations. It showcases a shared planet under the theme "Where Nature Shines" connecting wildlife of the land, of the sky and of the sea with three, never seen before, purpose-built, inclusive installations contributed by inaugural access and inclusion partner Cushman & Wakefield. They join installations and light sculptures from the renowned Ample Projects Mini Beasts collection and the breathtakingly beautiful Jellyfish Bloom. As well as festival-favourite animal lanterns from 14 different captivating species, from enchanting echidnas to a magnificent lion pride.
Address:

Bradleys Head Road, Mosman

When: Friday 27 May – Saturday 18 June, 5.30pm-9.30pm
Cost: Adult: $26.95, Child (4-15 years): $19.95, Infant (under 4): Free
Website: taronga.org.au
2. Vivid Light Walk
The Vivid Light Walk is the best way to see the Sydney light festival. It is the recommended route to explore Vivid's epicentre around Circular Quay, The Rocks and Botanic Gardens. The 2022 festival boasts the longest continuous Light Walk in the history of the event, trailing 8km from the Sydney Opera House to Central Station and showcasing 47 installations and projections. Find yourself in the city's lesser-known spaces, as they shine the spotlight on reclaimed passages and storied places, such as The Goods Line, Walsh Bay, Central Station and more.  Stay updated on their website for a complete map of the light walk to plan your trip.
Address:

Circular Quay

When: Friday 27 May – Saturday 18 June, 6pm-11pm
Cost: Free
Website: vividsydney.com
3. Captain Cook Cruise
Escape the city crowds this year, and enjoy Vivid Festival from the sparkling Sydney Harbour on board a Vivid Family Cruise. If you want to take the children to see the Vivid lights of Sydney, there really isn't a more magical (or stress-free) way of experiencing the dazzling lights than on board a cruise vessel. Discover unique vantage points to view the Vivid Lights and amazing photo opportunities of the Harbour Bridge and Opera House. Visit multiple precincts and see the full canvas of lights from your Vivid Sydney cruise. Light up your nights with a kaleidoscope of light reflecting off the water in every direction.
Address:

Darling Harbour King Street Wharf

When:Friday 27 May – Saturday 18 June
Cost: From $29 per Adult:

Redeem your $50 NSW Parent Voucher with Captain Cook Cruises by 30 June 2022 & be rewarded with free bonus offers valued up to $40.

Website: captaincook.com.au
4. Luna Park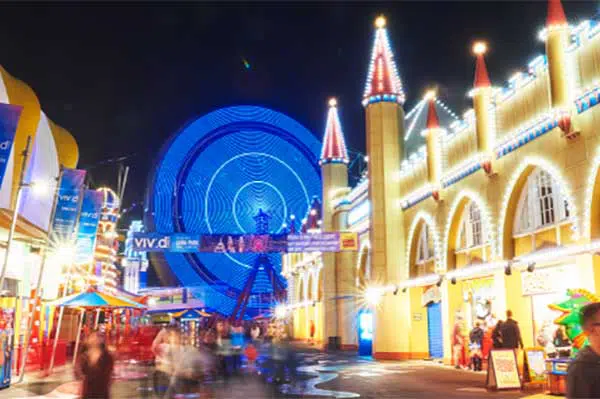 Luna Park's unparalleled position on the northern shore of Sydney Harbour makes it the perfect location for Vivid Sydney. See the new lighting installations especially for Vivid Sydney, hear music in unique performance spaces or catch the Ferris wheel and get a bird's eye view of the technicolour city.
Address: 1 Olympic Drive, Milsons Point
When: Friday 27 May – Saturday 18 June
Cost: Free
Website: vividsydney.com
5. Liquid & Light Show, Darling Harbour
In a festival first, the waters of Cockle Bay in Darling Harbour, will dance with the showstopping Sydney Infinity by Oracle Liquid, an epic water sculpture in a scale never seen before in Australia. Featuring dynamic jets, 12 x 80m high water shooters and dramatic lighting supported by a Sydney inspired soundtrack from DJ Pee Wee Ferris, this is set to be an audience favourite. 
An impressive array of 48 compressed-air water cannons – that can blast water up to 80 metres into the air – delivers a powerful crescendo of visual wonder and sonic blast-waves guaranteed to rock your senses.
Address: Darling Harbour, Sydney
When: Friday 27 May – Saturday 18 June, 6pm-11pm
Cost: Free
Website: vividsydney.com
6. Bump in the Night, Tumbalong Park
In Sydney, things tend to go bump in the night. Is that a possum party on your roof? Noisy bats eating your mulberries? Or, a brush turkey flirting with your chickens? This interactive light installation draws inspiration from our overheard encounters with a bold mother nature.
Australians love camping and this artwork resembles a peaceful campsite, with muffled snores heard from within the tents. As you walk through the campground, any noise you make could wake up the campers, resulting in what looks like hand torches being waved about. Kids will just love the interaction!
Address: 11 Harbour St, Sydney NSW 2000
When: Friday 27 May – Saturday 18 June, 6pm-11pm
Cost: Free
Website: vividsydney.com
---
Looking for more fun things to do with kids?