Commemorating ANZAC Day 2020 come with challenges posed by COVID-19. We're sharing some ideas for Australians to acknowledge ANZAC Day, both in the lead-up and the day itself, as the community looks for new and different initiatives to honour the service and sacrifice of our brave servicemen and women past and present.
---
"There's no doubt that ANZAC Day 2020 will be very different to ANZAC Days of previous years," says Ray James, Acting President, RSL NSW.
"While we will not be gathering at services or marches, there are still many ways to acknowledge ANZAC Day and ensure Australian servicemen and women are appropriately remembered."
"Traditional dawn services and marches are just not possible this year, but as with all other Australians right now, we have to change the way we do things, evolve and make the best of our situation. Nothing can ever take away the importance of ANZAC Day or our values of mateship and camaraderie as we honour our service personnel and show our ANZAC Spirit.
"Now is the time for all of us to show our ANZAC Spirit, including ingenuity, and we welcome the many and varied ideas that have been embraced by the community. Any activity that respectfully shows commemoration and thanks is most welcome."
Celebrating ANZAC Day 2020
1. Light up the dawn at 6am on ANZAC Day
Go to the end of your driveway, stand on your balcony or in your lounge room facing east from 6am, for a minute silence to remember those who have sacrificed so much for the freedoms allowed to us today and listen to a brief commemorative service. Together – even while apart – we'll remember those who served and sacrificed. You can pledge your support here.
2. Be part of the Community Ode
Record a video of yourself reciting The Ode or sharing a message of support for veterans on your social media.
Respond "Going" to the RSL's ANZAC Day 2020 Facebook event. Then use the hashtags #ANZACspirit and #lightupthedawn and share how you'll be commemorating privately, as well as who you'll be remembering this ANZAC Day.
3. Tune into live services and virtual commemorative services
5:30am: A national dawn service will be televised on the ABC from the Australian War Memorial in Canberra. This service will be led by the Governor General and Prime Minister. It is scheduled to commence with the pre-service program at 5am with the national service at 5.30am.
10.00am: RSL NSW will facilitate a 10am televised service attended by the Governor at the Hyde Park Memorial. Please check your local TV guides.
4. Anzac Day Concert 'Music From The Home Front'
Music From The Home Front sees Australian and New Zealand musicians uniting for an extraordinary special concert event on Anzac Day evening, screening on Channel Nine from 7.30pm. Live streaming direct from their safe locations to yours, Australia and New Zealand's most revered artists will come together to commemorate the spirit that binds us all together on this special Saturday night.
The line-up includes Delta Goodrem Ben Lee, Birds of Tokyo, Ian Moss, Jimmy Barnes, Missy Higgins, Paul Kelly, The Wiggles, Vika and Linda Bull and many more. See the full list of artists. 
So find the best seat in the house (your couch!) and tune into Channel 9 for Music from the Home Front, an evening of music. 
5. Bake ANZAC biscuits with your children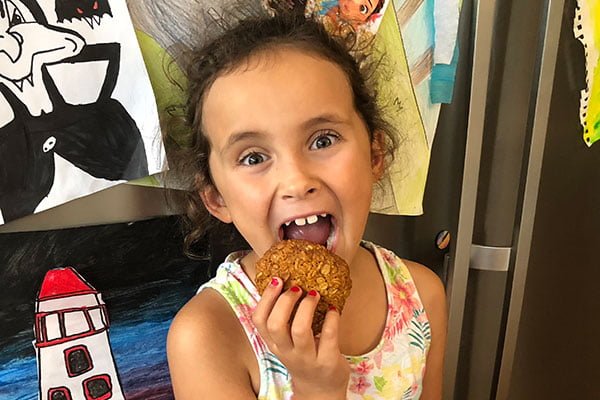 Baking Anzac biscuits with your children is a great way to celebrate ANZAC Day, and is a time-honoured tradition to mark our country's National Day of Remembrance. The famed biscuits were sent by wives and other women to sustain the Australian and New Zealand Army Corps (ANZAC) during World War I . The combination of golden syrup and oats, and the absence of eggs, meant the goods traveled long distances without spoiling. Click here for the recipe.
6. Donate to the ANZAC Appeal online
Donations support Australian veterans and their families in need.
Support veterans and their families during a very challenging time.
Your gift can help provide veterans with crisis accommodation, emergency financial help, or physical and mental health support.
With your help, we will honour the sacrifices they have made for us.
With your help, the ANZAC tradition of looking after each other will live on.
No matter what.
7. Reach out to a mate or veteran who might be alone
Many people are alone during this time of isolation. It's an opportunity to invoke the ANZAC value of mateship and check to see how a mate is doing. And if you know a veteran please call or reach out to them, check in on them, thank them for their service and help them if needed during this time.
8. Ku-ring-gai Kids Honour our Heroes
Ku-ring-gai Council is asking all children in the Ku-ring-gai region to show support to our service people currently on deployment by the way of messages to sailors, soldiers, airmen and airwomen and to Honour our Anzacs, returned soldiers and those currently serving. This can be in the form of story, poem, letter or artwork. The creativity is up to you. Upload onto Instagram and use the hashtag #ANZACKURINGGAI and #ANZACSPIRIT or email it to [email protected]. After Anzac Day all letters will be forward to the Australian Defence Force and these messages would be circulated to deployed personnel from all three services and veteran communities.
9. Anzac Day Children's Storytime
Ku-ring-gai Library has hosted an Anzac storytime suitable for primary school children so children can engage with the Story of the Anzacs. There is a collection of Anzac stories available through The Storybox Library which can be found on Council's website in the Library Audio/E Books section.
Watch below:
Children are also encouraged to make an Anzac craft out of items at home from either inside or outside in nature. Once made, display this somewhere outside your home, or in the window on Anzac Day.
There's a wide variety of other ideas being embraced across the country, many of which originated from passionate everyday Australians keen to demonstrate their ANZAC Spirit on a day that belongs to all Australians.
ANZAC Day in 2020 is Saturday 25 April.
---
Want more family entertainment at home?