It's one of those questions that parents 'um' and 'ah' over, before eventually throwing it into that 'too-hard' basket. Should I open a bank account for my kids? The short answer is 'yes'! Setting one up is actually easier than you think and there are so many benefits that come with banking for kids. Check them out below and discover what you should be looking out for when choosing the best account for your child.
---
Opening a bank account in your child's name is a good idea. Banking for kids provides an easy way to save for education expenses, offers bonus interest, and teaches your child about saving early in life.
Under the age of 18, your child needs you as a parent or legal guardian to open the account for them, with your name listed on it as well. It's actually a very straight forward process, with ongoing benefits over the years. You'll need to have their birth certificates handy, and to be able to verify your identity, which you can do using a valid identification document, such as your driver's license or passport.
The tricky part comes down to selecting the right bank account. There are so many different options available, it's easy to get confused! It's important to take the time and make sure you make the right choice. After all, you want your child to have a good experience with managing their own money right from the start.
Factors to consider when opening bank account for your child
1. Low bank fees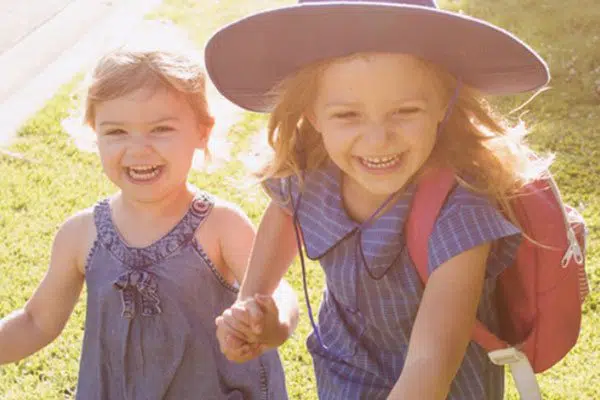 Every cent counts, which is why it's important to find a bank account without any unnecessary fees or associated costs. Your kids shouldn't be wondering where on earth their money has gone!
Youth accounts have lower maintenance needs than adult bank accounts. That means there are plenty of fee-free options available. The most important cost to avoid is any form of monthly account-keeping fee. This is particularly important if the account will be used mainly for savings, without regular deposits beyond the occasional bit of pocket money or birthday money.
By finding a fee-free option, your kids will be able to see their balance grow over time and learn the value of saving.
2. Competitive interest rates
Your child's bank account should help them grow their savings, so competitive interest rates are important. If you've opened an account for your child at a young age, they'll have plenty of time to grow their overall balance through interest alone.
Finding a competitive rate is also a fantastic way to show your child how interest works and how valuable it can be when saving money. Children are more likely to take on board the value of interest if they can see it making a significant difference to their overall balance.
The best account for your children may change over time. For example, once they become students, there are different options available to suit their needs. It's never too early to start thinking about these changes. When you are exploring youth account options, make sure to consider the sort of accounts that will be available through your bank in the future.
3. Security
These days, security is king! Plus, children may be more likely to misplace their debit card (amazing how many things can get lost in those bedrooms) or forget how to log into their accounts.
A youth bank account should be secure and easy to access – preferably via a mobile banking app. These apps utilise the built-in technology of smartphones – like fingerprint recognition – to make access to bank details far more secure than when using a password and limiting the need to remember passwords.
If you want your children to access their money easily, look for an account that comes with a debit card. Children can spend their money in more locations than with a simple EFTPOS card – for example, online – and still can track overall balances via their banking app.
4. Local bank
It's also great to have a local bank nearby. While online banking is perfect for busy adult lives, visiting your local branch with your child can be an exciting excursion. Most children love counting out their hard-earned coins at the teller, and they learn about managing their money in the process.
5. A bank that creates an impact
Look for a bank with products and services that positively impact its customers, communities, and environment. For example, Beyond Bank is a certified B Corp. They use their business as a force for good and meet the highest standards of social and environmental performance, accountability and transparency.
6. Learning about money
Having a bank account is a great first step to help children learn about managing their money. By developing these skills and understanding the value of money from an early age, this positively influences financial wellbeing for individuals and ultimately makes for a more prosperous community.
Find out more about banking for kids with Beyond Bank
Beyond Bank has created financial education program for primary school students with a fun, in-depth and engaging education in money management, called 'Beyond Money'.
Drop into Beyond Bank's Chatswood Branch and talk to their friendly staff about your family's banking needs. You can also learn more about Beyond Bank and see their special offers here.
---
More on kids and money…