If you're always looking for fun things to do with the kids but you don't want to spend a fortune, try a day out at Darling Harbour, writes North Shore Mum Melissa Dibben. 
If you're looking for something fun and relatively cheap to on the weekend or during school holidays, then look no further than Darling Harbour. There is lots to see and do and much of it is free or relatively inexpensive.
Darling Harbour Quarter is about 10 minutes' walk from Town Hall station, and once you reach the end of Bathurst Street, a veritable Aladdin's Cave for children awaits you. The play area is absolutely fantastic and the biggest trouble you'll have is keeping an eye on the kids as they dart from activity to activity!
Most kids love to climb and there are two separate rope mazes, depending on age, ability and fearlessness! If it's on the warm side, then the water area is a must.  There's a flying fox, rope climb with a slide at the end of it, and what park would be complete without swings! Best of all, it's free!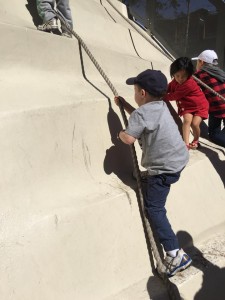 There are also carnival rides and at $7 for two tickets, the beautiful vintage carousel ride is a must. There are also tea cups rides and a miniature pirate ship.
Cafes are located opposite, so adults can grab a coffee and a snack and watch the kids run wild. A great day out for young and old alike.
Darling Quarter
Darling Quarter is a precinct of Darling Harbour, located in the heart of Sydney's CBD, located at 1-25 Harbour Street, Sydney, NSW, 2000. There is more information on Facebook here.
What's your favourite spot to take the kids?
More from Out & About…