Easter doesn't have to mean bingeing on chocolate eggs and enduring your kid's sugar-fueled tantrums. If you want to go easy on the sweets but still celebrate with your family, try one of these clever ideas for Easter gifts that aren't edible!
---
1. Have an Easter Egg hunt
Stock up on plastic eggs from a $2 store or The Reject Shop and pop little gifts inside before hiding them. You could include trinkets like jewellery, stationery items, or brightly coloured balloons that kids will adore and play with all afternoon!
2. Cuddle up to a real bunny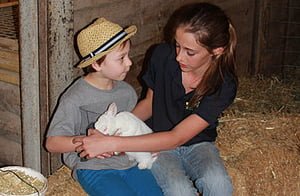 If you're not quite ready to commit to an actual pet, try a visit to a petting zoo. The Easter Show is the obvious option, but you can also get up close and personal with furry friends at Calmsley Hill City Farm or Golden Ridge Animal Farm at Dural, which introduces kids hold rabbits, ducks and chicks to hold. Click here to see our list of the closest farms to the North Shore.
3. Easter storybook
A book is a timeless gift that's sure to bring hours of entertainment. Try a popular book like We're Going on an Egg Hunt by Laura Hughes or The Velveteen Rabbit by Margery Williams and illustrated by William Nicholson.
4. Hatch virtual eggs

Your child can grow their own Easter pet with a a nifty grow-a-pet Hatchimal hatching animal or an Australian Growing Pet from the National Geographic store, which you can see here. These guys turn into a platypus, frilled-neck lizard or emu at home. Or your child might enjoy raising a virtual pet with a Tamagotchi.
5. Give them a bunny of their own
A soft, floppy-eared bunny toy is a perfect gift for younger kids. Choose a classic rabbit like this one from Target or look for an Easter -themed toy complete with basket (or add your own!).
6. Pyjamas and slippers
These bunny-ear slippers are an adorable option for a bunny-themed gift, and paired with snuggly PJs, they'll make for a cosy Easter.  Look for a sweet print featuring bunnies, cute chickens, eggs or other Easter-themed adventures.
7. Build a Bear
Some Build-A-Bear workshops offer special Easter bunny making, but even if you stick to the standard soft toys your child will love creating their own critter. Try booking a spot at a workshop here.
8. Bumper Easter Craft
Keep those little hands busy building Easter craft projects! Collect your own cardboard, glue and glitter supplies or stock up on specially designed craft project kits so kids can create their own baskets, bonnets, chickens and more! Take a look at some here.