When you need to satisfy a craving for a juicy burger, you just have to go somewhere special! We've collected the votes of NSM Facebook Group members to compile this list of six must-try burger joints on the North Shore, from classic cheeseburgers to sumptuous truffle burgers! Why not try them all?
---
1. Burger Hound, Wahroonga
Hand crafted burgers use the finest ingredients, real potatoes lovingly double fried, and The Hound for company! Besides burgers, they offer wings, loaded fries, shakes, hot dawgz, bacon and egg rolls plus caffeine and hot chocolate hits. The Hound Burger is an 80/20 patty, American cheese, double bacon, and buttermilk onion rings, shredded lettuce, tomato, American mustard, McClure's pickles and Hound sauce.
Try the:

'Ho Lee Fuk'! Southern fried chicken, double baconaise, double cheese, house pickled jalapeños and Sriracha

sauce
Address:

1 Redleaf Avenue, Wahroonga

Check their burgers out here: Burger Hounds Facebook
What NSMs say:  Definitely your best bet in the area! (Laura)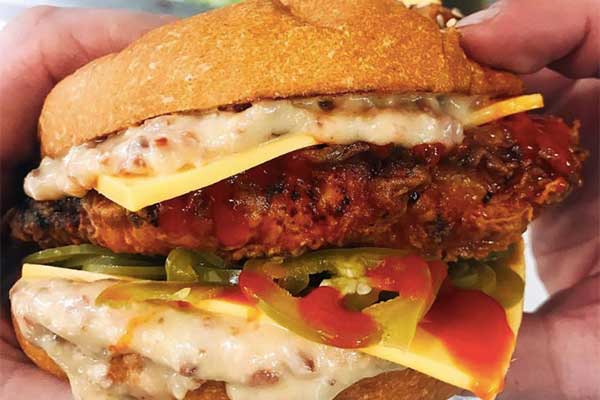 ---
2. Burger Patch, Chatswood
Burger Patch say their food is crafted to delight your tastebuds and they also serve ribs that melt in your mouth! The Good American is a classic choice of beef patty, American cheese, onion & pickles with tomato sauce, mustard & aioli. Otherwise The Aussie will hit the spot, with its beef patty, beetroot, pineapple, bacon, American cheese, fried egg, lettuce, tomato, onion & pickles with tangy BBQ and signature sauce.
Try the: Chick N Slaw, buttermilk fried chicken breast, creamy house slaw and signature sauce
Address:

234/1 Katherine Street, Chatswood

Check their burgers out here: Burger Patch Facebook
What NSMs say: They have picnic blankets so you can take your burgers into the grass! (Marney)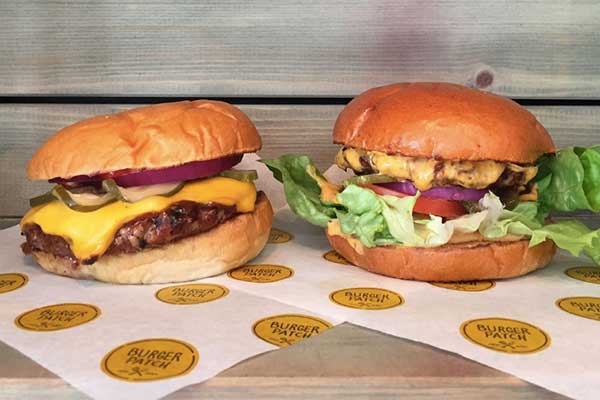 ---
3. Flower Child Cafe, Chatswood
Flower Child is a cafe, a garden and a eatery bringing the beauty of the outdoors indoors with its green foliage and floral decor. The burgers are a part of a wide-ranging menu, so it's a good choice for a group who want some variety. A highlight is the Aussie Burger of g
rilled grass-fed beef, sticky onions, crispy lettuce, American jack cheese, beetroot relish, smoky BBQ sauce, pickles on milk bun with sweet potato fries and maple bacon. The Chicken Schnitzel Burger is also a winner, with crispy chicken schnitzel, pickled cabbage, carrot, beetroot, tasty cheese, lettuce, tomato, hot chilli sauce & zesty mayo on a sesame seed milk bun served with sweet potato fries.
Try the: Bacon and Egg burger, with soft folded eggs with chives, crispy bacon, caramelised miso onions, cheddar cheese & chipotle mayo
Address:

391/1 Anderson Street, Chatswood

Check their burgers out here: The Flower Child Cafe Facebook
What NSMs say: I had a very good burger at Flower Child! (Patricia)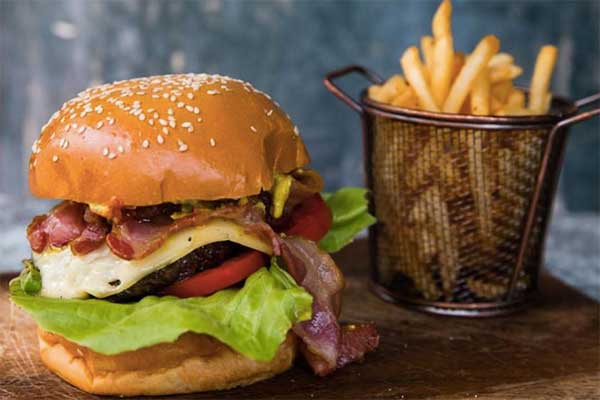 ---
4. The Hayberry, Crows Nest
Rustic bar with exposed-brick walls and leather booth seats, for burgers, BBQ wings and tacos. There's a
Bogan burger of beetroot, egg, bacon, cheese, barbeque sauce, pineapple and mayo, or the Borderlands burger with sour cream, jalapenos, red onion, lettuce and cheese, but you can bring non-burger loving mates and feast on hot wings, tacos and quesadillas plus an amazing assortment of cocktails and whiskeys.
Try the: Cheesy Bacon burger with crunchy waffle fries 
Address: 

97 Willoughby Road,

Crows Nest

Check their burgers out here: The Hayberry Facebook
What NSMs say: Juicy American style burgers and cocktails (Karen)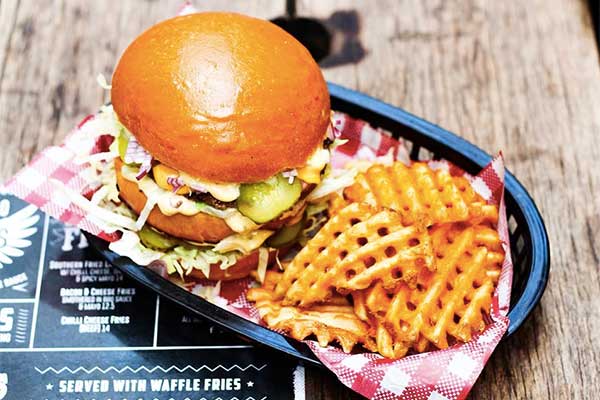 ---
5. Five Points Burger, North Sydney
Five Points Burgers in North Sydney is an American-style burger joint offering authentic, tasty burgers that will blow you away! The menu is short but satisfying, led by The Bronx Burger- a grilled beef pattie, double cheese, pickles, bacon, tomato sauce, aioli, onion jam, mustard and iceberg lettuce. The Manhattan is a trimmer version – no bacon, no onion jam, no extras. The vegetarian option is a Portobello mushroom pattie with cheese, tomato, marinated peppers and tzatziki.
Try the: Queens Burger, which is grilled chicken breast, bacon, cheese, tomato in chilli sauce and gherkin mayonnaise.
Address:

1

24 Walker Street, North Sydney

Check their burgers out here: Five Points Burgers Facebook
What NSMs say: Perfect American style burger (Cristin)
---
6. Batch Burgers & Espresso, Kirribilli
These guys really excel when it comes to American flavours, so while their classic combinations are great, try something with US style! The Brooklyn is 100% Aussie beef patty with bacon, smoked cheddar, tomato, pickles, Spanish onion & lettuce with thousand island dressing. Or for something fancy, the Truffle Shuffle is 100% Aussie beef patty with sumptuous truffle mayo, bacon, melted white cheese, tomato lettuce, pickles, and onion rings!

Try the: Tijuanero Burger -Spicy marinated chicken, smoked cheddar, tomato, avocado, spanish onion, cucumber & jalapeno pickles with peri peri sauce
Address:

2/3A Broughton Street, Kirribilli



Check their burgers out here: Batch Burgers
What NSMs say: Just so juicy and delicious, a truly memorable meal- we'll be back! (Carly)

---
Love eating out? Then you might also like: