There's something about the combination of thin and crispy dough and melting mozzarella that makes pizza simply irresistible. So next time you get a craving for all things Italian, take a tip from pizza-loving North Shore Mums and try one of these 10 local family-friendly pizza restaurants. It's in no particular order, just our favourites from south to north! 
---
Best Pizza on Sydney's North Shore
1. Pizza Pasta Bene, North Sydney
Address: 196 Miller St, North Sydney
Phone:  (02) 8188 2097
'Last time I went [the] owner gave my boy colouring in and crayons' – O'Cher
'Pizza Pasta Bene does delicious wood-fired pizzas' – Alex
2. The Italian Bar Pizza, Willoughby
Address: 191 High Street, Willoughby
Phone: (02) 9967 5468
'The Italian in Willoughby has great pizzas. Nice thin crust' – Saira
3. La Botte, Willoughby
Address: 608 Willoughby Road, Willoughby
Phone: (02) 9958 6785
'Delicious pizzas and pastas, the girls beg to go back every week and I love a glass or two of their imported Italian wine' – Trinh
'Teeny tiny and squishy but great food and great with kids' – Bonnie
4. Via Napoli Pizzeria, Lane Cove
Address: 141 Longueville Rd,  Lane Cove
Phone: (02) 9428 3297
'We went to Via Napoli at Lane Cove this week for the first time and it was fantastic!! Pizza didn't take long to come out and they have loads of heaters for outdoor dining (I actually got hot!). We took our 2.5yr old and 5 month old and they were more than happy to accommodate a stroller and staff were great with our little girl. Highly recommend however I suggest booking as on Tuesday they were packed!'  – Sarah
5. Borruso's Pizza & Pasta, Northbridge
Address: 65 Strathallen Avenue, Northbridge
Phone: (02) 9967 5706
'So family-friendly. They give the children dough to play with and crayons etc' – Michelle
'Borruso's have amazing tasty pizzas and pastas and are so welcoming to families – crayons, drawing paper and they also give pizza dough for the kids to play with. The creations are then baked in the oven for them to eat' – Charlotte.
6. Capri Cucina, Lindfield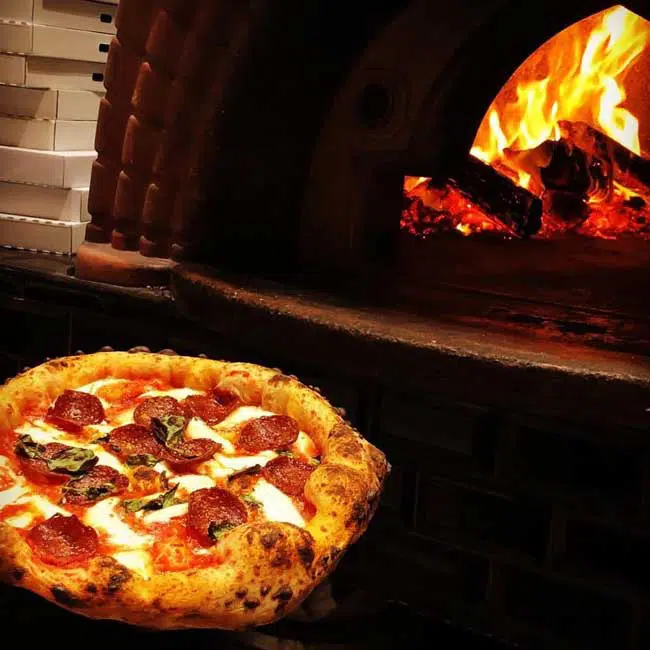 Address: 310-312 Pacific Highway, Lindfield
Phone: (02) 9416  1110
'Delicious pizza and so unbelievably family friendly it's crazy! The staff couldn't be more welcoming to the children and it makes dining out with the whole family an absolute treat!' –Rachel
'We love the buzz (and the food) at Marciano's. If you love antipasto, you must give their share platter a try too!' – Candice
7. The Sawmill, West Pymble
Address: 7 Duneba Avenue, West Pymble
Phone: (02) 9498 6565
'The woodfired pizzas at The Sawmill are unbelievably good, possibly the best I've ever eaten.' – Maria
'The Sawmill is a little hidden gem in the backstreets of West Pymble, yet it's always so busy. They are really family-friendly too, and the rest of the menu is delicious too.' – Lisa
8. Farina Pizzeria, North Turramurra
Address: 4-5/1 Normurra Avenue, North Turramurra
Phone: (02) 9488 7171
'Beautiful authentic Italian food, and it's got a really buzzy atmosphere – so you don't need to worry about the kids being too loud! They provide crayons and paper for the kids too' – Lucinda
'Excellent crust, good sauce, and cheese. Amazing fresh pastas. Great service. Outdoor seating. Reasonable prices. Kids menu too!' – Mary
9. Karoo & Co., Wahroonga
Address: 4/178 Fox Valley Road, Wahroonga
Phone: (02) 9489 0261
'For a good dose of hipster with your pizza and amazing desserts!' – Kate
'I love the Quattro formaggi at Karoo' – Amy
---
Want more eating out options?